There's a saying by some Texas newcomers, "I wasn't born in Texas, but I got here as fast as I could." Well, I'm from Texas and my saying goes a bit different: "I wasn't born a Cajun, but I married one as fast as I could." And nothing makes me think more lovingly about my Louisiana wedding day than listening to some Wayne Toups over a big platter of boiled crawfish.
Crawfish are just part of the Louisiana DNA. And now that they're growing wild in one of the state's most profitable revenue streams, people from all over the country are getting a little crawfish boil in their veins—and eating it up. Which makes the crawfish farmers, processors and distributors in Louisiana a pretty good living.
The History of The Louisiana Crawdad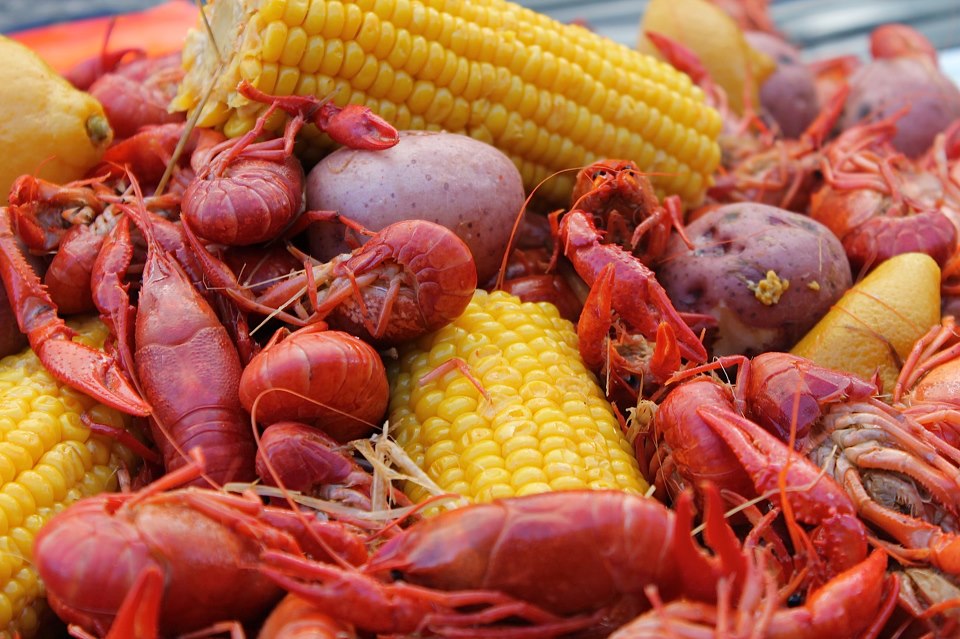 According to the Louisiana Crawfish Promotion and Research Board, crawfish were already a favorite food of Louisiana culture, dating all the way back to the native Americans and the early European settlers. Abundant in the swamps and marshes across south Louisiana, crawfish season in Louisiana is still a huge part of the culture to this day, with crawfish boils and backyard parties a time-honored tradition.
The Board shows commercial sales of crawfish in Louisiana beginning in the late 1800s and harvested from natural waters throughout the southern region of the state. The first record of a commercial crawfish harvest in the United States was in 1880. That year, a harvest of 23,400 pounds was recorded, with a value of $2,140. By 1908, a U.S. Census report listed Louisiana's crawfish production at 88,000 pounds, with a value of $3,600.
Learn more about the history of Louisiana crawfish here.
Louisiana Grown Crawfish
Crawfish are freshwater crustaceans. Based on findings from the Louisiana Crawfish Promotion and Research Board and the LSU Ag Center, Louisiana has more than 30 different species of crawfish, but only two species are commercially important to the industry; the red swamp crawfish (Procambarus clarkii) and the white river crawfish (Procambarus zonangulus).
 Red crawfish far outnumber white crawfish in state-wide production. Occasionally both species are mixed in the same catch. Red crawfish dominate most farms, especially in south Louisiana and in most places in the Atchafalaya Basin. White crawfish are slightly more plentiful on north Louisiana farms and in Mississippi River overflow swamps.
Most crawfish are harvested between December and June, but March, April and May are the peak months in Louisiana. On rare occasions, crawfish may be harvested in July and August in the state.
For more information on making sure packaged crawfish are from Louisiana farms, or to get help on how to handle and prepare your crawfish, check out the FAQ section at the bottom of the Louisiana Grown page.
The Crawfish Industry In Louisiana
Crawfish flourish in all of the southern U.S. states in warm waters during warm weather seasons. And while there are small harvests of farmed crawfish for human consumption in Southern states such as Texas, Arkansas, Mississippi, Alabama and the Carolinas, Louisiana is by far the largest producer of crawfish in the nation.
While official nationwide comparisons aren't available, industry experts estimate that Louisiana accounts for 90%-95% of the total U.S. production from year to year, either from wild waters of the state, or crawfish farms.
Commercial sales of crawfish in Louisiana date back to the late 1800s and today's crawfish industry includes millions of pounds harvested from farms and natural waterways in the Bayou State. The harvesting of wild crawfish from natural habitats such as bayous, swamps and marshes provides a significant number of jobs for Louisiana residents. The Atchafalaya Basin is world famous for its crawfish production.
Louisiana Crawfish Farms
According to the LSU Ag Center, in 1997 Louisiana crawfish farmers produced about 47 million pounds of crawfish, compared with 111 million pounds in 2011; the total value increased from $27.9 million to $163 million. During that same period, wild crawfish production fell from 30 million pounds in 1997 to 15 million pounds in 2011.
Louisiana's crawfish farming industry has grown to include more than 1,200 farms occupying more than 120,000 acres. Crawfish ponds have no standard size, but most are between 10 and 40 acres, and most producers manage 150 or fewer acres.
Some farmers use the crawfish ponds for growing rice at other times of the year.
Technological advances have explained the growth of the Louisiana crawfish industry to include farming as well as fishing in the wild. In the 1960's, crawfish farming made its debut with the cultivation of crawfish in man-made ponds, using controlled water levels, forage management and water recalculation techniques to produce a highly marketable product.
During the next 35 years, crawfish farming developed into the largest freshwater crustacean aquaculture industry in the United States. Louisiana leads the nation, producing more than 90% of the domestic crop. More than 1,600 farmers produce crawfish in some 111,000 acres of ponds. More than 800 commercial fishermen harvest crawfish from natural wetlands, primarily the Atchafalaya Basin. The combined annual yield ranges from 120 million to 150 million pounds. The total economic impact on the Louisiana economy exceeds $300 million annually, and more than 7,000 people depend directly or indirectly on the crawfish industry.
For more info on crawfish farming click here.

Celebrate Crawfish Season
Crawfish and seafood have an important economic and cultural role in Louisiana, especially in family-owned restaurants like Deanie's, where Louisiana's culture of strong family and community ties combine with culinary heritage and traditions.
However you serve it up, crawfish are just downright good for Louisiana. Boiled into the culture and cooking in the global marketplace, the crawfish industry is a big part of the success of Louisiana's economy and will be a rich commodity for future generations of Louisiana natives and crawfish lovers the world around.
So, get together some friends and have a boil before the season comes to an end. But take it from a skinny Texas boy, if you share your pile with a Cajun gal, you're sure to go home hungry.
Laissez les bons temps rouler, y'all!