Deanie's employees share favorite live music experiences in New Orleans
Sept. 5, 2014 – In New Orleans, live music is everywhere. As a New Orleans original, Deanie's values not only Louisiana seafood but all aspects of our region and its distinct culture. Family owned and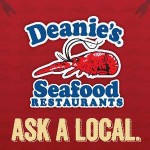 operated for over 50 years, the Deanie's family consists of over 300 employees at both locations.
If you want to know what's worth seeing and doing in town, we say "Ask A Local," so we asked a handful of our staff at the French Quarter location to share their favorite live music experiences in the Big Easy, and here's what we found:
Taiyana M. has worked at Deanie's as a server for one month, and her favorite music experience in the city is seasonal: She enjoys the second line during New Orleans Mardi Gras and New Orleans Jazz & Heritage Festival.
Jeanette Z., a server at Deanie's for one year, looks forward to French Quarter Festival, a free music festival held each spring in New Orleans celebrating the musical culture of the Big Easy.
Frankie C. has worked at Deanie's in the French Quarter for four years as a server. His favorite place to see live music after hours is at Fat Catz Music Club on Bourbon Street.
Sherry K. has been with Deanie's for 3 and a half years as a server. She enjoys seeing local cover bands The Chee-Weez and The Molly Ringwalds around the city as well as at Deanie's own annual Pinch A Palooza Festival & Crawfish Eating Contest in Bucktown, held each April. (By the way, Pinch A Palooza 2015 is Sun., April 19.)
Belinda B. has been a server at Deanie's French Quarter location for almost four years. She is a fan of Broadway shows at the historic Saenger Theatre in New Orleans.
Jason D. has waited tables at our French Quarter location for 5 years, and he's also a successful photographer. His favorite place to see live music in the city is at the House of Blues and at Pinch A Palooza. (No, we didn't pay him to say that…)
If you have a question you'd like to "Ask a Local," let us know!
http://www.deanies.com/contact-us