Deanie's in Bucktown Donates Portion of Sales to Support Schools
Just as the kids return "Back to School," Deanie's Seafood in Bucktown has released dates for the new season of its community-giving program, Dine Out at Deanie's, to support local schools in the Metairie community. Under the Dine Out at Deanie's initiative, Deanie's is donating a portion of the purchase price of orders at Deanie's Seafood Restaurant and Deanie's Seafood Market made on Dine Out day by supporters of the school for the week.
Dine Out at Deanie's is valid for purchases at Deanie's Bucktown location, 1713 Lake Ave., Metairie, including dine in and takeout orders at the restaurant and purchases at Deanie's Seafood Market. School boosters need to mention the school name when ordering for Deanie's to contribute toward the school's programs. Beginning Mon., Sept. 18, Dine Outs have been scheduled every Monday for the following schools: Archbishop Chapelle High School, St. Mary Magdalen School , Archbishop Rummel High School, St. Catherine of Siena School, Brother Martin High School , Mt. Carmel Academy, Good Shepherd School, and St. Mary's Dominican High School, respectively.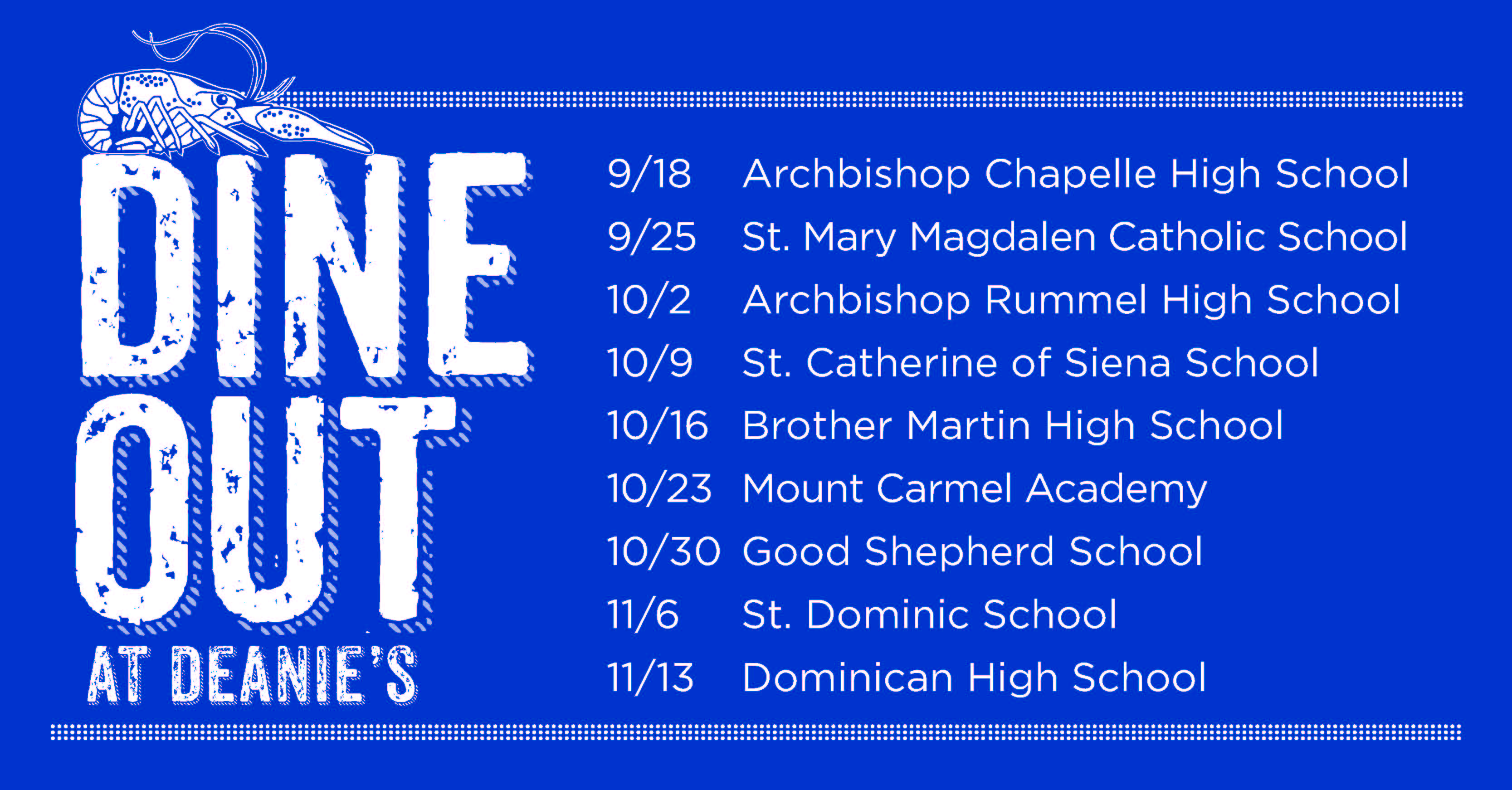 BUCKTOWN PHILANTHROPIC TRUST
This year, the Chifici Family celebrates its 35th year as owner/operators of Deanie's, and the restaurant and seafood market's 56th year of operations in Bucktown. Deanie's restaurants take part in numerous charitable events throughout Greater New Orleans and have long been the sponsor of Archbishop Rummel High School's Rummel's American League Baseball team.
Deanie's Seafood formed the Bucktown Philanthropic Trust with a focus on supporting local children's causes and celebrating Bucktown's heritage and culture. Deanie's also participates at local school fairs, including St. Catherine of Siena's Fair and St. Louis King of France School's Bucktown Seafood Festival, where Deanie's has provided all seafood concessions at the fair the past two years.
Deanie's Seafood's Bucktown Philanthropic Trust has donated more than $20,000 through Deanie's Pinch A Palooza Festival initiatives since the event's founding in 2010. A free outdoor crawfish and music festival at Deanie's original location in Bucktown, Pinch A Palooza also is a philanthropic event that supports and raises awareness of local charitable causes and organizations.
ABOUT DEANIE'S SEAFOOD
Deanie's Seafood Restaurants and Market have been known for serving hearty portions of the best boiled, broiled and fried seafood in New Orleans prepared in our signature Creole seasonings for more than 50 years. Deanie's Seafood was the first restaurant and seafood market in the Greater New Orleans region to have earned Louisiana Wild Seafood Certification from the Louisiana Department of Wildlife and Fisheries in 2014.
Deanie's operates a thriving seafood market and catering business as well as two successful restaurants in the New Orleans area, the original location at 1713 Lake Ave. in the quaint fishing village of Bucktown (Metairie) and a second location in the heart of the historic French Quarter, located at 841 Iberville St. Our restaurants and seafood market are open seven days per week. The online seafood market Shopdeanies.com ships fresh Louisiana seafood and prepared items to anywhere in the continental United States. To learn more about Deanie's Seafood, visit us at www.deanies.com.