METAIRIE, LA–Deanie's Seafood Restaurant in Bucktown is one of the featured restaurants on the Jefferson Parish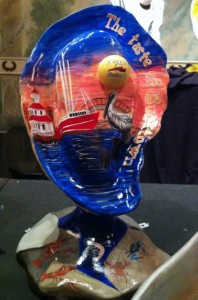 Oyster Trail, an experience focusing on Jefferson Parish restaurants serving Louisiana Oysters. The Jefferson Parish Oyster Trail is presented by Jefferson Convention and Visitors Bureau, Inc. and the Louisiana Tourism Recovery Program.
Deanie's Owner Barbara A. Chifici said Deanie's is excited that Deanie's Seafood Restaurant & Seafood Market–a Bucktown original for more than 50 years–is one of the 12 restaurants showcased on the Oyster Trail.
"Louisiana Seafood is such a big part of our culture and economy. We're really proud to be able to contribute to continuing the tradition of great seafood, great friends and good times," Mrs. Chifici said. Deanie's custom oyster sculpture designed by artist Sherry Francalacia was installed at the restaurant in October 2012 as part of the three-year Oyster Trail campaign,
Visitors and locals alike will experience the local flavor, as well as the flare of local artists' hand-painted sculptures depicting Jefferson Parish. Additional information is available at LouisianaOysterTrail.com.
Deanie's operates a thriving seafood market and catering business as well as two successful restaurants in the New Orleans area, the original location in the quaint fishing village of Bucktown and a second location in the heart of the historic French Quarter. Deanie's also prepares and ships delicious fresh and boiled Louisiana seafood to customers throughout the United States through its retail website, Online Louisiana Seafood Market for Crawfish, Crabs, Oysters and Shrimp | ShopDeanies.com which was launched in 2011.
Mrs. Chifici has built a locally owned, family-operated business employing more than 300 New Orleanians and serving nearly 1 million visitors and locals annually, earning the distinction as "Best Seafood Restaurant in New Orleans" by Times Picayune readers. Deanie's authentic New Orleans cuisine is nationally renowned and featured on various Travel Channel and Food Network programs. Both Deanie's restaurants are go-to locations for football fans during the NFL season. Deanie's in the French Quarter hosts Saints Radio Network's live broadcast of "The Point After" show on WWL Radio following each New Orleans Saints game.
Deanie's Seafood is proud of its heritage of serving fresh Louisiana seafood prepared with Deanie's signature seasonings. Its menu includes fresh Louisiana Shrimp, Blue Crab, Oysters, Catfish, Crawfish and more, and serves classic dishes such as Crawfish etouffee, Lump Crabmeat au Gratin, BBQ Shrimp and Seafood & Okra Gumbo. Deanie's recipes also have been showcased in Gourmet magazine and in cookbooks such as Chef John Folse's "Hooks, Lies and Alibis."
About Deanie's Seafood
For more than 50 years, Deanie's Seafood Restaurants and Market have been serving huge portions of the best boiled, broiled and fried seafood in New Orleans. We invite you to visit the original location in Bucktown at 1713 Lake Avenue or in the French Quarter at 841 Iberville Street (located at the corner of Dauphine and Iberville streets).
To learn more about Deanie's Seafood, visit us at www.deanies.com or call the restaurant directly at 504-834-1225.
# # #