Celebrating Opening of Deanie's Sea Food Kitchen on magazine
NEW ORLEANS–Aug. 15, 2018—The New Orleans Chamber of Commerce will celebrate with the owners of Deanie's Seafood Restaurants as they cut the ribbon on their new location in Uptown New Orleans at 12 p.m., Tues., Aug. 21.
Deanie's Sea Food Kitchen, located in a two-story building at 2200 Magazine St. at the intersection of the Irish Channel and Garden District, is the third location of the family-owned and -operated Deanie's Seafood Restaurants. Delivering the same flavors as the legendary restaurant known for its seafood offerings, Deanie's Sea Food Kitchen is a contemporary outpost of the New Orleans restaurant group.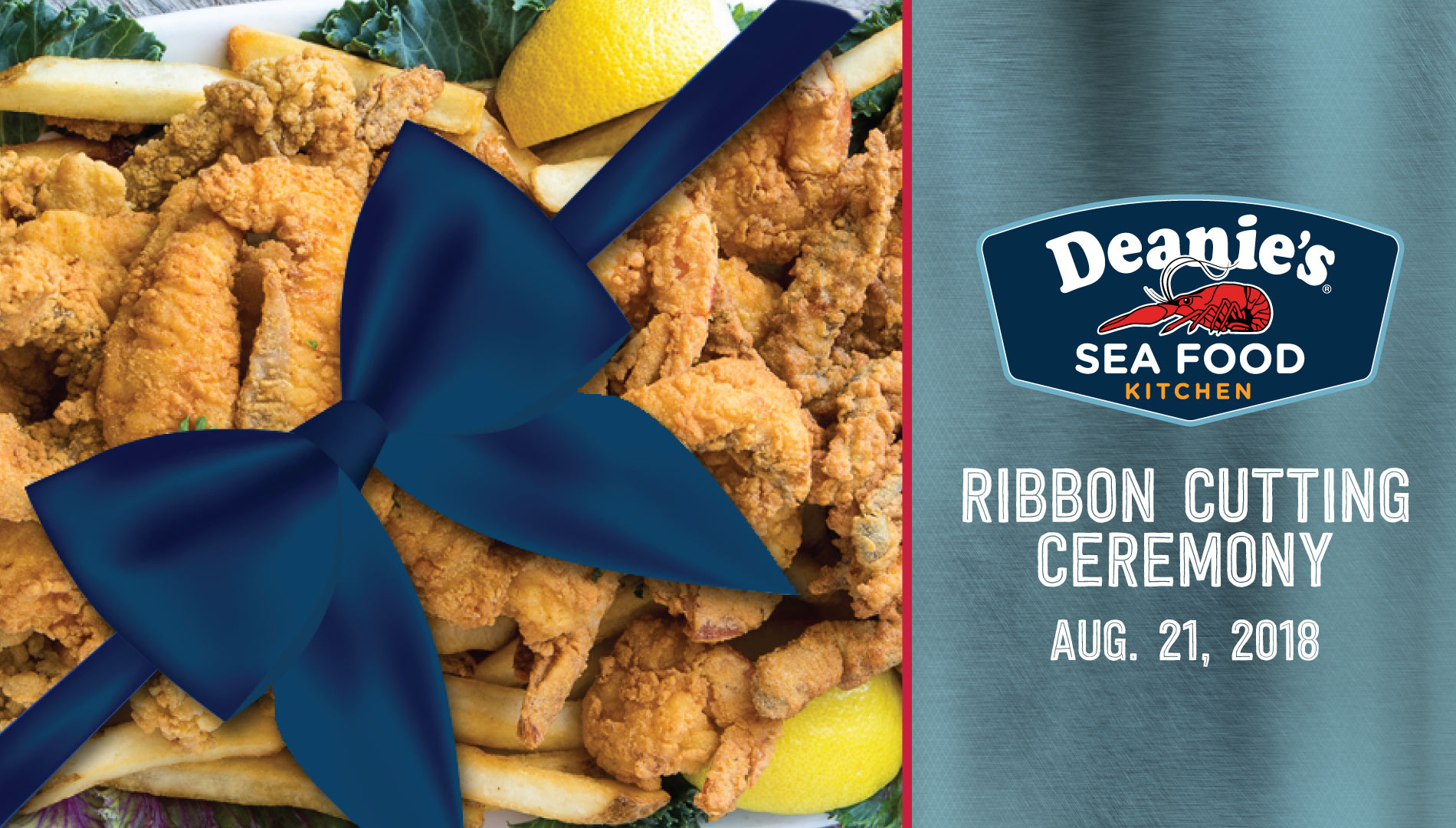 Deanie's Seafood Restaurant, located at 1713 Lake Ave., Metairie, which opened in the Bucktown neighborhood in Jefferson Parish in 1961, is one of the most enduring names for New Orleans-style seafood.
"We are overjoyed to open our newest location in our home town and are committed to living up to the Deanie's standard, which has earned a reputation as an established, recommended local favorite consistently recognized as one of the top seafood restaurants in New Orleans," said Deanie's Sea Food Kitchen Owner/Manager Chandra Scarber-Chifici.
"Both Uptown locals and visitors will now be able to enjoy fresh Louisiana seafood offerings like seasonal boiled seafood, fried seafood, crawfish etouffee, barbeque shrimp, crabmeat au gratin and po boys for which Deanie's is known," she said.
Deanie's Sea Food Kitchen in Uptown New Orleans
Deanie's Sea Food Kitchen is the first new Deanie's location since Deanie's Seafood Restaurant in the French Quarter was introduced on the corner of Iberville and Dauphine streets in 2001. Located at the corner of Jackson Avenue, Deanie's Sea Food Kitchen seats approximately 175 guests and features a spacious second-story wrap-around balcony for outdoor dining with a beautiful view of the New Orleans skyline. The new design features a raw and charbroiled oyster station and an open kitchen layout with an oversized, fabricated metal-lighted "Deanie's" sign mounted above the kitchen, a long dining bar extending to a full bar, and counter seating facing Magazine Street. A second full bar and additional seating is available upstairs, with special accents such as exposed bulb lighting fixtures, rough-hewn wood tables, and vintage oyster baskets lining the ceiling. The restaurant's open ceiling and steel embellishments provide an industrial yet warm atmosphere, with historic, homegrown touches throughout the space, including vintage signs and black-and-white fishing photography by local photographer Bevil Knapp.

The newest Deanie's restaurant resides in a colorful, eclectic neighborhood with a diverse mix of locals and tourists close to Magazine Street shops, restaurants and galleries, the St. Charles Streetcar line, Garden District walking tours and antebellum homes. It's also a short distance from Loyola and Tulane Universities, Audubon Park and Audubon Zoo. Deanie's Sea Food Kitchen is open for lunch and dinner seven days per week.
The full Deanie's Sea Food Kitchen Menu is available online at Deanies.com. The restaurant is open 11 a.m. to 9 p.m. Sunday through Thursday, and from 11 a.m. to 10 p.m. Friday and Saturday. The restaurant can be reached at (504) 962-7760.
About Deanie's Seafood Restaurants
Rated by locals as one of New Orleans' Best Seafood Restaurants, Deanie's Seafood is known for serving fresh Louisiana seafood prepared with Deanie's signature Creole seasonings. Family-owned and -operated, Deanie's Seafood operates three successful restaurants, including its original restaurant and seafood market in Bucktown, 1713 Lake Ave., Deanie's in the French Quarter, 841 Iberville St., and its newest location, Deanie's Sea Food Kitchen, 2200 Magazine Street in the Garden District. Deanie's offers off-site catering serving the authentic flavor of New Orleans and ships fresh Louisiana seafood including Louisiana oysters, shrimp, crawfish and blue crab, and delicious prepared items such as seafood gumbo, crawfish etouffee and stuffed crab and crawfish through its online retail site www.shopdeanies.com.
Visit us on our website at www.deanies.com.