Magazine Street restaurant introduces half-off happy hour to celebrate
The newest addition to the family of Deanie's Seafood Restaurants, Deanie's Sea Food Kitchen, located at 2200 Magazine St. in Uptown New Orleans, celebrated its grand opening and ribbon-cutting August 21. New Orleans Mayor LaToya Cantrell, District B City Councilmember Jay H. Banks, New Orleans Chamber of Commerce CEO & President G. Ben Johnson, and many more joined the Chifici family in the celebration.
To continue the grand opening festivities, Deanie's Sea Food Kitchen will host a New Orleans Chamber of Commerce Pop-Up from 5-6:30 p.m., Wed., Sept. 12 and launch a new happy hour offering half off select wines, beers and spirit available weekdays from 4 to 7 p.m.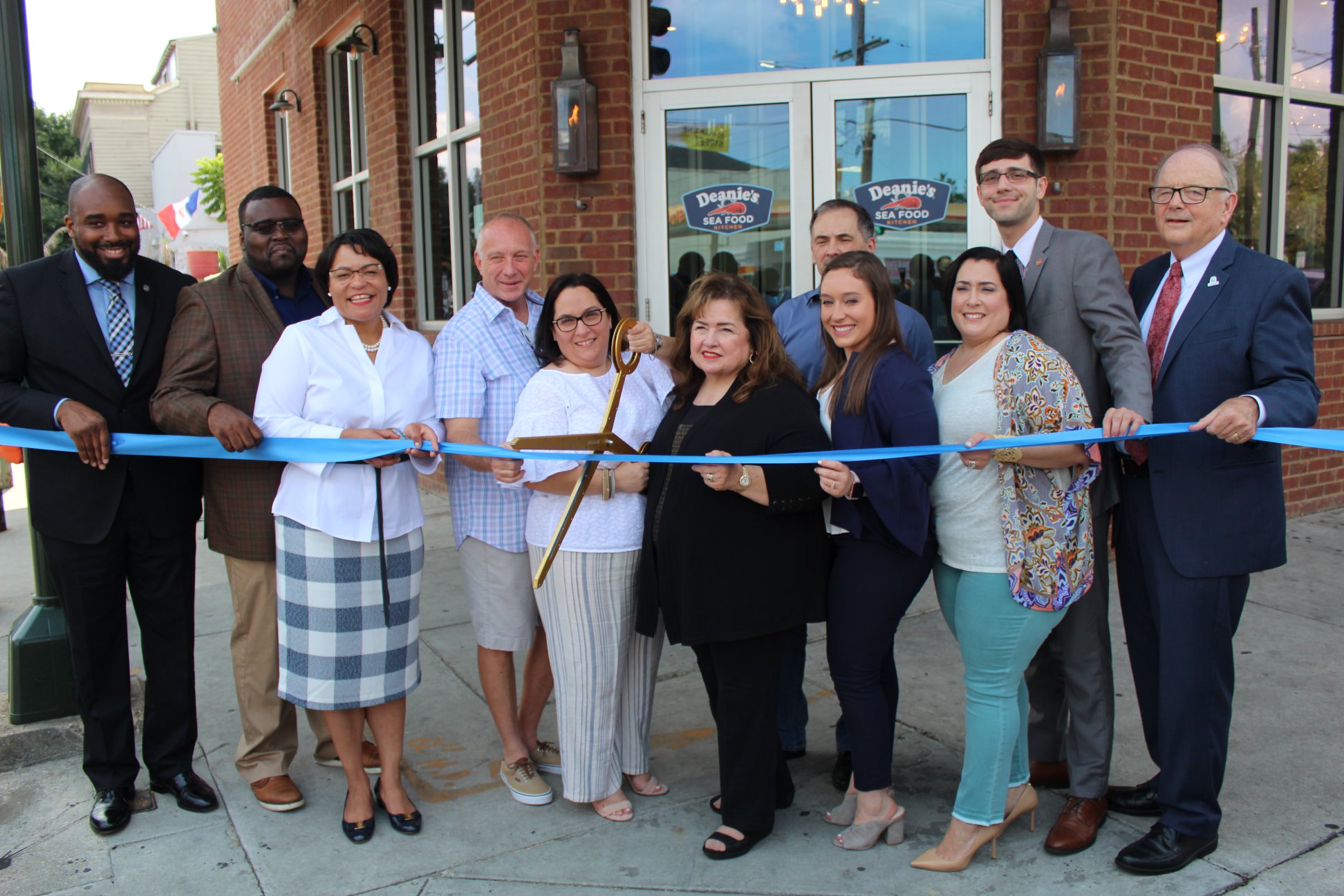 New Orleans District B Councilmember Jay H. Banks, Mayor LaToya Cantrell and New Orleans Chamber of Commerce CEO Ben Johnson join Deanie's Sea Food Kitchen owners and staff celebrate the restaurant's ribbon-cutting.
Owned by Chandra Chifici-Scarber, the space has full bars upstairs and downstairs, balcony dining, a raw and charbroiled oyster station, and a kitchen serving boiled seafood, Deanie's classic menu items, as well as a few new items, including Jambalaya, Red Beans & Rice and New Orleans BBQ Shrimp Tacos.
Mayor Cantrell commended Deanie's matriarch Barbara Chifici and Chifici-Scarber on developing the kitchen on the corner of Jackson Avenue in Uptown and said the development "demonstrates their investing in family and in people," showing a collection of both diversity and strength.
During her comments at the ribbon-cutting, Chifici-Scarber said: "We are overjoyed to open our newest location in our home town and are committed to living up to the Deanie's standard. Now, both Uptown locals and visitors to the Garden District will have a place to enjoy the fresh Louisiana seafood offerings Deanie's is so well known for
New Restaurant Venture Brings New Jobs
Chifici-Scarber noted that the Uptown restaurant opening has added at least 40 new jobs to the area with plans of adding more as they develop.
Deanie's Seafood Restaurants Proprietor Barbara Chifici spoke about the history of the family and its restaurants and expressed her pride and support in her daughter's venture with this new concept.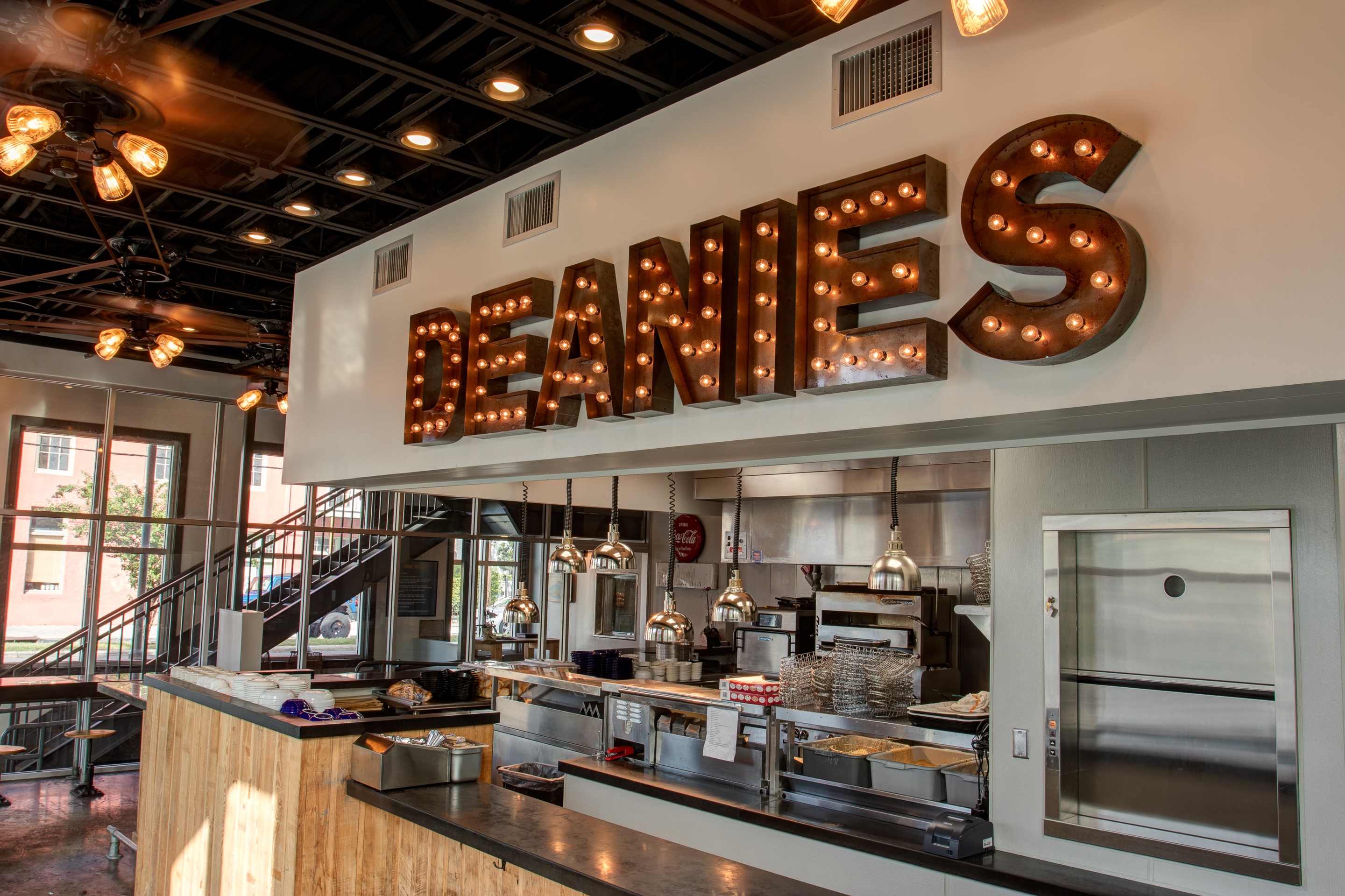 New Orleans Chamber President Johnson awarded the family a certificate of recognition for the special occasion, noting the opening of the family-owned restaurant group's third location is "a testament to the entrepreneurial spirit of New Orleans."
Deanie's Sea Food Kitchen is the first new Deanie's location since Deanie's Seafood Restaurant in the French Quarter was introduced in 2001. Deanie's Sea Food Kitchen seats approximately 175 guests and features a spacious second-story wrap-around balcony for outdoor dining with a beautiful view of the New Orleans skyline. The interior is filled with many historic touches to represent Deanie's history, including vintage signs, oyster baskets lining the walls and black-and-white fishing photography by local photographer Bevil Knapp.
About Deanie's Seafood
Rated by locals as one of New Orleans' Best Seafood Restaurants, Deanie's Seafood is known for serving fresh Louisiana seafood prepared with Deanie's signature Creole seasonings. Family-owned and -operated, Deanie's Seafood operates three successful restaurants, including its original restaurant and seafood market in Bucktown, 1713 Lake Ave., Deanie's in the French Quarter, 841 Iberville St., and its newest location, Deanie's Sea Food Kitchen, 2200 Magazine Street in the Garden District. Deanie's offers off-site catering serving the authentic flavor of New Orleans and ships fresh Louisiana seafood including Louisiana oysters, shrimp, crawfish and blue crab, and delicious prepared items such as seafood gumbo, crawfish etouffee and stuffed crab and crawfish through its online retail site www.shopdeanies.com.