The Global Effects of Eating Local
For seafood lovers, there's really nothing better than a fresh, perfectly prepared catch. From crabs, to Gulf shrimp, to crawfish, to flounder — enjoying seafood is definitely a beloved part of the culture here in Louisiana. Consumers have a lot of options when they shop for seafood these days. You can pick up most anything from your neighborhood grocery store, farmers market, seafood market, or even online. But when you pick up that tuna or shrimp at your local store, do you really know where it comes from?
Between 80 and 90 percent of the seafood Americans eat is imported—and half of that is farm-raised. An absence of labels, mislabeling and misrepresentation of seafood origin is a widespread problem in the United States.
The Louisiana Seafood Promotion & Marketing Board has launched a "Know Better. Eat Better." campaign to encourage consumers to learn more about what sets domestic seafood apart.
Poor Regulation of Farm-Raised Shrimp
Shrimp represents the largest seafood category consumed in the United States and 90 percent of those shrimp come from foreign shrimp farms. Much of the seafood that is imported into the United States isn't tested for antibiotics or other banned chemicals.
In her article "The Truth about Farm-Raised Shrimp," food safety advocate Milie Barnes reports that, of the one billion pounds of foreign shrimp imported to our shores each year, the Food and Drug Administration (the government agency responsible for imported food safety) samples less than one percent of these shipments.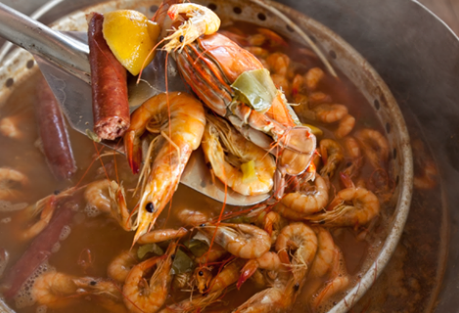 Photo courtesy Louisiana Seafood Promotion & Marketing Board
Antibiotic residues in shrimp are a concern because they are illegal under U.S. food safety laws and indicate differing food safety standards between the United States and exporting countries. Farmed shrimp makes up 55 percent of the industry, according to the World Wildlife Fund. Low-lying farm ponds produce massive amounts of organic waste which, coupled with uneaten food and bacteria, create a literal breeding ground for infection. Without proper food safety laws and oversight, that bacteria may be making its way onto your plate. One study found that 60 percent of frozen shrimp (with 95 percent of that shrimp being imported) was contaminated with bacteria.
Impact on American Shrimpers
When you combine the cheap prices on foreign shrimp imports from countries like China, Indonesia and Thailand alongside the ever-growing number of restrictions and regulations driving up the price per pound for American wild-caught shirmp, is it any wonder so many American shrimp boats are going under? According to KHOU in Houston, "From the 5,000 shrimp boats that trawled the Gulf Coast waters in 2000, last year just 880 ventured out to sea."
Another challenge for local fishermen is an uneven playing field. There are laws to stop foreign countries from practices like "dumping" seafood, which means selling it at a heavily reduced rate in order to out-price the domestic competitors. But many of these companies were able to get around these laws because they were not strictly enforced, or because penalty money was collected improperly — or not collected at all.

Imported seafood isn't required to pass the rigorous inspection process or uphold the ethical labor standards domestic seafood producers do. Slave and child labor is a serious problem affecting the foreign seafood industries. Working conditions that are unregulated abroad can involve children and adults working 16-hour days for very little (or sometimes even no) pay.
This abuse of the system is damaging to the domestic seafood industry, but more recent initiatives have been put into place to protect these fisheries. Programs from organizations like Louisiana Fisheries Forward have helped to improve the economic success of Louisiana's commercial fishing industry.

Taste the Wild-Caught, Gulf Coast Difference
More than ever, it's important to support our domestic seafood industry, especially its commitment to our culture of sustainability.
Wild caught Gulf fish and shrimp are vastly superior to farm-raised in both taste and quality. Much of this is due to the unique combination of elements found in Gulf Coast waters. Combining the fresh waters of the Mississippi and Atchafalaya Rivers with coastal tidal waters, the Louisiana shoreline contains a perfect mixture of brackish waters, shallow depths and high levels of nutrients.
Crawfish and shrimp account for more than 15,000 jobs in Louisiana, and the seafood industry in Louisiana is a vital–not to mention, a very special–part of our local economy. Louisiana's annual crawfish harvest ranges from 120 million pounds to 150 million pounds, and the annual economic impact of crawfish is more than $300 million. The month of April is now officially recognized as "Louisiana Crawfish Awareness Month," a designation sought by Deanie's Seafood Restaurants and passed last year. Crawfish Awareness Month celebrates Louisiana's seafood and culture and recognizes the fishermen, crawfish farmers, processors, distributors, seafood markets and restaurants who have helped raise awareness for this unique Louisiana delicacy and grown the crawfish industry into a leading commodity for the state.
Certified Authentic Wild Louisiana Seafood
Deanie's Seafood was the first restaurant in New Orleans to become certified as serving "Certified Authentic Louisiana Wild Seafood," a voluntary certification program that guarantees that seafood bearing the "Certified Authentic Louisiana Wild Seafood" seal is caught in the Gulf of Mexico or Gulf Coast state waters by Louisiana licensed fishermen and is landed, processed, and packaged in Louisiana.
Better still, you know that you are supporting the fishermen producing the highest quality, best tasting seafood in the world, and a safe and sustainable seafood harvest.