300 Years of New Orleans Music and Food
There's never been a better time to be in New Orleans! The Carnival Season has begun, crawfish season is just around the corner, and this year marks the 300th Anniversary of the Crescent City. There's a buzz in the air, despite the recent cold weather. Our city's unique history is something that locals are proud of, from our love for parades and costumes, to the city's incredible architecture, to the booming culinary scene with more than 1,400 restaurants. Over 10 million visitors annually come to our city to experience our zest for music, food, and life!
The history of Bucktown, the site of our longest-running restaurant, is connected to both the seafood industry history of New Orleans as well as the music history. Bucktown was established more than 100 years ago as a string of fishing and hunting camps lining the 17th Street Canal and Lake Pontchartrain. Wooden camps built on stilts covered by shingle or tin roofs lined the canal. The people who lived along the canal and out on the lake were squatters who made their living from fishing, crabbing, hunting and trapping, as well as from boat rentals, tackle and bait sales and entertainment for vacationers.
During Prohibition, Bucktown was known for its speakeasies, houses of prostitution, jazz music, and gaming dens. The settlement is said to have been named for the young bucks who came there looking for a rough time. Others say the village was named for the good deer hunting in the area. Still others say it was named for a local fisherman, Oliver "Buck" Wooley. Amid the unrestrained gaiety, Bucktown was one of the places where jazz was born with such tunes as the "Bucktown Bounce" by Johnny Wiggs and the "Bucktown Blues" by Jelly Roll Morton.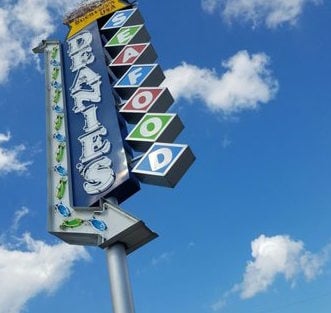 Deanie's was the first seafood market to open its doors in Bucktown over 55 years ago and was the biggest market in the area. In its hey day, Deanie's boiled as much as 20,000 pounds of crawfish on Good Friday. Our restaurants' history and dedication to the restaurant industry in this city are intertwined in a powerful way, as we continue to deliver the best local seafood to locals and visitors to the Crescent City.
So far, 2018 is looking like the best year yet! Our Garden District location will be opening soon, our Bucktown location is going into its 36th year under the current ownership, and our French Quarter location just celebrated 11 years this December. Deanie's Seafood is proud to be locally owned and operated in New Orleans, and we're excited to celebrate the Tricentennial.
Deanie's Seaofod restaurants use quality ingredients combined with the best wild and local seafood available. From New Orleans Barbeque Shrimp, to Seafood Gumbo, to Charbroiled Oysters…. there are so many ways to enjoy the best seafood our region has to offer at our New Orleans restaurants. Visit our website to browse our menu today!
{{cta('d26483fa-75b3-400d-97eb-b1fc3c017f6c','justifycenter')}}