Easy Steps to make Holiday Party Planning a Snap
Planning any party is a difficult task. Planning a party or event for a large group during the holidays, one of the busiest times of the year, is even more difficult. From finding the right venue to selecting the menus to choosing decorations, Deanie's Seafood has plenty of experience organizing events during the holiday. We're offering some tips to make the whole process go a little easier.

Confirming Holiday Event Date & Place
The two most important things to decide on for your holiday event are the date and the venue. Once a venue and date have been decided, the rest of the decisions become much easier to plan.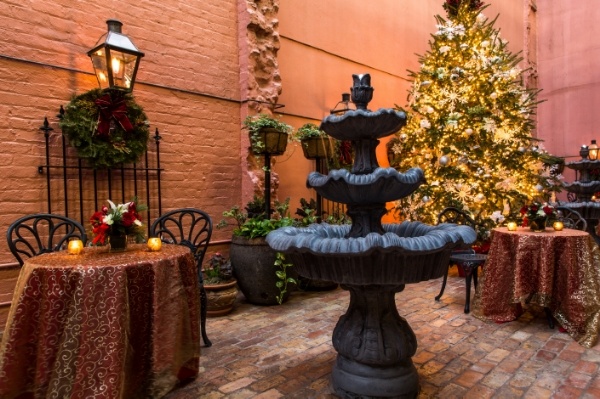 Finding a day in December that everyone is available can be tricky. Selecting your date early and informing your guests far in advance will help encourage attendance to your event. Make sure to have your date locked in before November to give those invited sufficient notice. Once you have established a date that seems to accommodate everyone, consider keeping the same date on the calendar for next year to establish an expected tradition that people can plan around.
Choosing an off-peak time, such as an early or mid-week lunch or Wednesday or Thursday evening not only opens up your options as far as venue availability but gives guests an unexpected mid-week festivity to enjoy.
Catering, decorations, drinks and many other event decisions are determined based on where and when the holiday event is being held.
Finding a Private Dining Venue or Event Space in New Orleans
There are a variety of private party venues in New Orleans, from intimate private dining spaces to fun entertainment venues such as bowling alleys and adult arcades. With a vast number of special event locations, the French Quarter is a convenient spot for you and your guests to enjoy themselves and celebrate the holidays in a fun and festive environment.

Finding the right place can give your party a special atmosphere and save the expense that would have been spent on decorations. The simplest and least-expensive option is to choose a space that already has the ambiance you're looking to create. We offer private dining and catering at our three locations, including a private dining room with outdoor courtyard at its location in the French Quarter, a contemporary Uptown restaurant with balcony, and a traditional family restaurant setting in Bucktown.

Choosing Your Private Party Menu and Bar Package
Just about all private party and banquet venues have different food and bar packages available. Some venues provide their own catering while others do not, and you may need to acquire the services of a catering company.
Very few events held at restaurants offer the full regular menu for large parties. Some offer variations from their standard menus, but others have special menus and items only offered at private events. Ask if you can customize your menu offerings to ensure you can deliver the experience your guests will enjoy rather than being bound to bland rubber chicken or dry salmon as the only food available. The more research done will benefit those trying to compare prices and menu options.
Deanie's offers customized menus to plan a festive cocktail reception, holiday lunch or banquet or seated dinner.

Holiday Office Party Themes & Games
A holiday party is an opportunity to show your appreciation for your employees and create camaraderie. One way to build teamwork while celebrating the holidays is to incorporate a charitable cause.
Consider a silent auction benefiting a charity or toy drive to celebrate while giving back this holiday season. Some fun holiday office party ideas include choosing a corny theme, like Ugly Christmas Sweater, Re-Gift Exchange, or a Pink Elephant gift giving game. In terms of themes, you can consider Mardi Gras, a Monte Carlo Night theme, Cajun Christmas, Nightmare Before Christmas, Christmas Around the World or Christmas Karaoke. Deciding on drink offerings for your guests is an important detail for your holiday office party.
Drink Options:
Open Bar, Cash Bar or Limited Bar
Open Bar, Cash Bar or Limited Bar
If your budget is flexible, choosing an unlimited open bar setting is a way to go all out. Some venues will allow you to use drink tickets for your guests, and you can choose the maximum per person. A more affordable option might be to offer only a preselected beer and wine, and any good restaurant or private party space will most likely advise you to offer a few different types of wine (such as 1 red, and 1 white). To liven up the party, you could also serve a holiday themed cocktail, or even a custom made drink named after the company. Champagne cocktails are always an easy option… just add cranberry juice and call it a "Reindeer Dash."
Team-building & Recognition
Getting colleagues and co-workers together for a night of holiday celebration and dining is not only about fun, but about boosting morale and recognizing your employees for their work throughout the year. Consider an awards ceremony honoring your coworkers, voted on by their peers. Categories can include: Best New Employee, First to the Office, Most Dedicated Team Leader, Best Chef, Biggest Sweet Tooth, Best Laugh, Congeniality Award and Best Fire Put-er-Outer.
Professional Catering & Event Staff
A dedicated Event Coordinator will help you tailor a menu that all of your guests will enjoy. Venues with professional catering staff will make sure that you deliver a special holiday event that your coworkers, clients and friends are sure to remember.
These tips should help you get organized for your private party and take some stress out of the planning process.