Aug. 1, 2014–The idea of sustainability is getting more attention as restaurants and other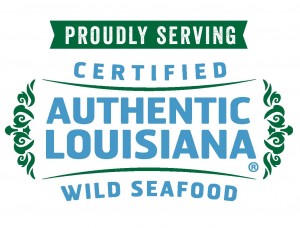 businesses make sustainable sourcing of seafood a priority. Seafood harvested in the United States under goes a rigorous management process to ensure the seafood you eat in your home or restaurant will be available for generations to come.
Sustainability also plays a large role in our region's economy: Louisiana's seafood industry, not including imports, generated 30,676 jobs in the state in 2011, and Louisiana leads the Gulf states in seafood sales with nearly $1.5 billion in sales in 2011. (Source: NOAA's Fisheries Economics of the U.S.)
With two restaurants in New Orleans, a seafood market and online marketplace for fresh Louisiana seafood, Deanie's Seafood Restaurants & Seafood Market–the first restaurants in the New Orleans region to become certified as "Louisiana Wild"–is a leader in endorsing the best practices that contribute to consumer confidence, quality, sustainability, and the economic health of our state's fishing industry.
To learn more about how sustainability can help manage our oceans' resources, read on:
http://ocean.nationalgeographic.com/ocean/take-action/sustainable-seafood/ and
http://www.fishwatch.gov/buying_seafood/choosing_sustainable.htm.