Freshest and Best Seafood in New Orleans at markets
As seafood lovers become more committed to eating local, consumers are realizing to get the best and freshest product, your local seafood market is where it's at. Whether you're planning to cook shrimp at home, attempting to grill a whole fish, or hosting a big seafood boil for friends and family during the holiday season, you'll find top quality seafood by buying locally.
Recent awareness of supporting a sustainable domestic seafood industry has contributed to the resurrgence of the seafood market. Being situated so close to Gulf waters means that we have access to Louisiana Seafood, which we think is the greatest-tasting seafood out there! We're proud to provide our customers with the best seafood in New Orleans.
DEANIE'S SEAFOOD MARKET AND BUCKTOWN HISTORY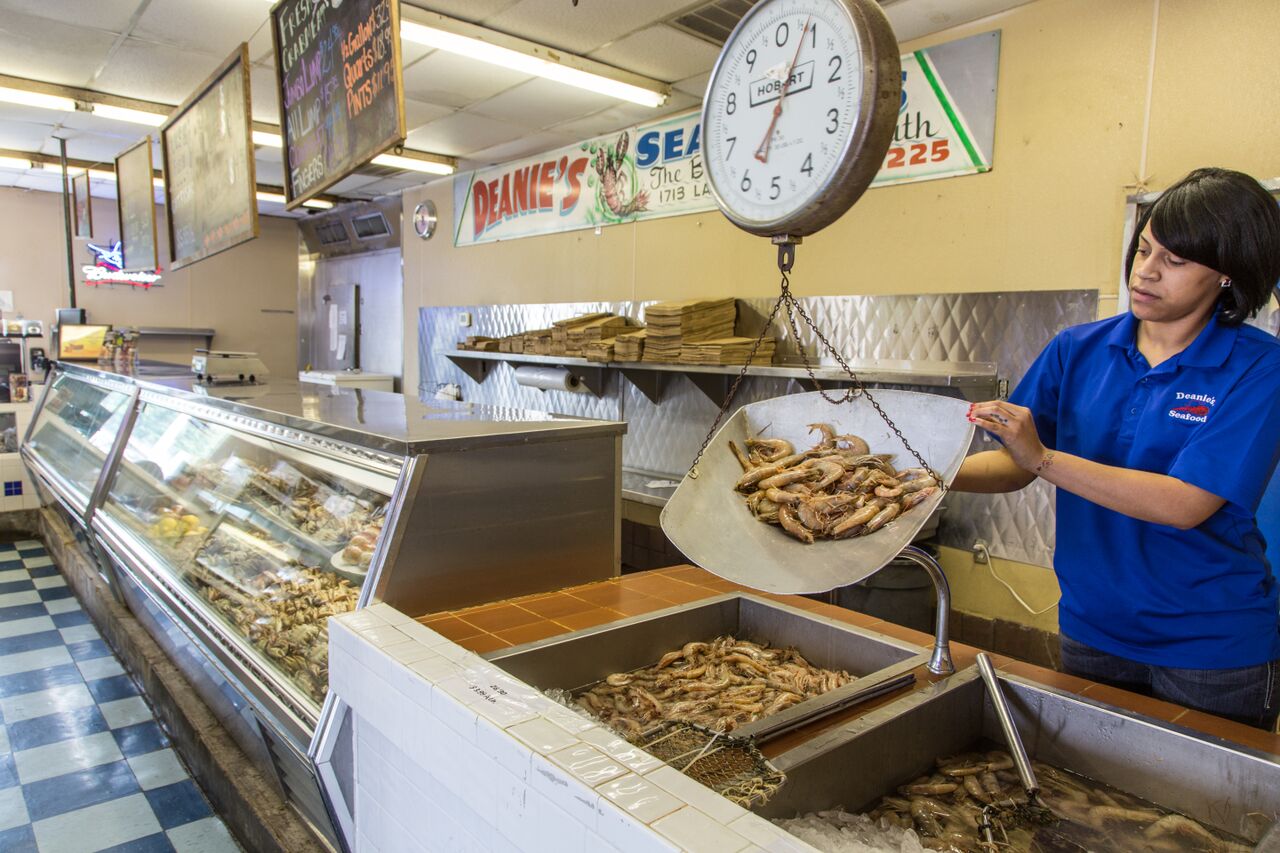 Deanie's Seafood Market, adjacent to Deanie's Seafood Restaurant's original location in Bucktown, operates on the site of the first New Orleans seafood market in this historic fishing community. Located at 1713 Lake Ave. in Metairie, Deanie's Seafood Market has been serving wild Louisiana seafood for the last 50 years. Bucktown was established more than 100 years ago as a string of rustic fishing and hunting camps lining the 17th Street Canal and Lake Pontchartrain. Deanie's was the first seafood market to open its doors in the quaint fishing village of Bucktown, and was one of the first to sell boiled seafood in a retail setting in New Orleans.
BEST SEAFOOD IN NEW ORLEANS AT MARKET
A plethora of fresh seasonal seafood is available everday at Deanie's Seafood Market, including Louisiana shrimp (fresh and boiled), Louisiana blue crab (fresh and boiled), Louisiana oysters (fresh and shucked), Louisiana crawfish (fresh and boiled), as well as catfish, redfish, salmon, and mahi mahi. Our prepared items are delicious and prepared using Deanie's Seafood Restaurants' original family recipes. The flavors of Louisiana seafood shine in dishes like Stuffed Artichokes, Stuffed Crab, Stuffed Crawfish, Seafood Gumbo, Crab Bisque, and Shrimp & Crab Remoulade, as well as salads, sauces, and dressings. We also serve seafood boil side items like seasoned boiled corn, sausage, and our famous seasoned boiled potatoes.
ONLINE SEAFOOD MARKET DELIVERS FRESH CATCH
Just because you don't live here doesn't mean you can't have fresh Louisiana seafood anytime. Order online at shopdeanies.com to have your favorite Deanie's items shipped from the market right to your door. Select from a wide variety of fresh-caught seafood to recreate your favorite meals at home or sample the finest seafood prepared in the authentic New Orleans' culinary tradition. Choose from our categories of Louisiana seafood items, including Shrimp, Crawfish, Blue Crab, and Oysters, as well as your favorite prepared foods, seasonings, condiments and merchandise.
Deanie's Seafood is consistently recognized by locals in categories like Best Seafood Restaurant, Best Oyster Po-Boy, Best BBQ Shrimp, and Best Place to Get Boiled Seafood in reader surveys by local publications Where Y'at Magazine, Gambit, The Times Picayune and New Orleans Magazine. Both restaurant locations are on the TripAdvisor "Hall of Fame" and have earned TripAdvisor's Certificate of Excellence seven years in a row. Deanie's Seafood's two restaurants in Bucktown and in the French Quarter, are open 7 days per week. The Seafood Market is open daily from 9 a.m. to 8 p.m., and can be reached by phone at 504-835-4638.
{{cta('8a0341e8-456e-4647-800c-c24877d0a193′,'justifycenter')}}