Order your Holiday Meal from Deanie's Holiday Take-Home Menu
The holidays are all about family, friends, and of course… food! There are so many preparations that need to be made, whether you're feeding a crowd or arriving as a guest to the holiday table. Check one item off your list by letting Deanie's Seafood handle some (or all!) of your Christmas menu items.
Our Holiday Take Home Menu features Deanie's treasured family recipes prepared with all fresh ingredients, ready to serve for your Christmas dinner, party, or gathering. Orders can be placed online or by calling Deanie's Seafood Market in Bucktown at 504-835-4638.Not only are our items housemade right from our kitchen in Bucktown but we've added new items to our holiday menu, with competitive pricing including 12-14 lb. smoked and fried turkeys for just $32.95, quarts of seafood gumbo and crawfish etouffee for $11.95 (pints and gallons also available), and oyster patties —petite pastry shells filled with oyster dressing—for $18.95 per dozen.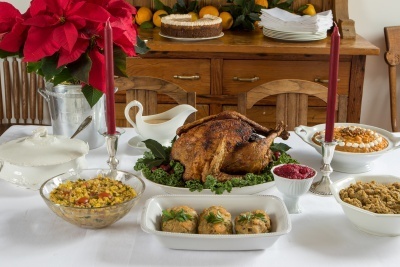 Recognized as one of New Orleans' best seafood restaurants and markets for more than 50 years, Deanie's holiday menu includes main dishes like Fried and Smoked Turkey, Smoked Boneless Brisket and Boston Butt; plus Stuffed Mirlitons, Oyster, Crab and Crawfish Dressing, Seafood Gumbo, and Shrimp & Crab Bisque, and sides such as sweet potato casserole, gravy and mashed potatoes, and mac & cheese. All sides come in pint (2-3 servings), quart (5-6 servings) and 1/2 pan (15-18 servings) options. And to top off your delicious holiday meal, there's Plain Cheesecake with Fresh Strawberries and Pumpkin Cheesecake with Praline Sauce ($39.95).
NEW ORLEANS RECIPES AT YOUR HOLIDAY TABLE
Place and pick up orders exclusively through Deanie's Seafood Market in Bucktown, 1713 Lake Ave. in Metairie. Our catered holiday meals are available this year throughout the month of December for office celebrations and pre-holiday events. Place your Christmas order by noon, Fri., Dec. 22. Orders can be picked up between Fri., Dec. 22 and 3 p.m. on Sun., Dec. 24 between 9 a.m. and 3 p.m. (Christmas Eve).
Call Deanie's Seafood Market at 504-835-4638 to order, or place your order online!