Free Crawfish Festival features live music all day
Deanie's Seafood will host its eighth-annual Pinch A Palooza Festival, a free crawfish festival celebrating Louisiana music and crawfish, on Sunday April 23 at Deanie's Seafood Restaurant & Seafood Market in Bucktown! Celebrating Louisiana Crawfish Month during the peak of New Orleans music festival season, Pinch A Palooza will feature more than 5,000 lbs. of boiled crawfish, a crawfish-eating contest for adults as well as one for children ages 6-12, crafts and games for the kids, and live music all day long.

New Orleans all-male charitable dance troupe The 610 Stompers will also be warming up the crowd with their spectacular dance moves. With seven bands beginning at 11am, and popular local funk band Flow Tribe closing out the night, this crawfish festival features music and entertainment for all ages!
NEW ORLEANS MUSIC FESTIVAL HIGHLIGHTS LOCAL TALENT
This year's Pinch A Palooza features a variety of musical talent and a range of genres, from rock, funk, pop, R&B, Cajun, and Zydeco. Headlining the crawfish festival is New Orleans American funk band Flow Tribe. The band tours nationally and has played the U.S. festival circuit, including the Voodoo Music Experience and New Orleans Jazz & Heritage Festival for five years running. Their "backbone cracking music" and soul-shaking mixture of styles and sounds will get you off your feet and dancing!
Pinch A Palooza performers are world renowned and decorated musicians. Louisiana Cajun fiddling prodigy Amanda Shaw and her band, The Cute Guys, recently earned the 2016 Offbeat Magazine Best of the Beat Award for Best Country / Folk / Singer-Songwriter Album. Vince Vance, a composer, pianist, entertainer, has recorded three No. 1 hits and performed in 19 countries, 34 states, and twice at the White House.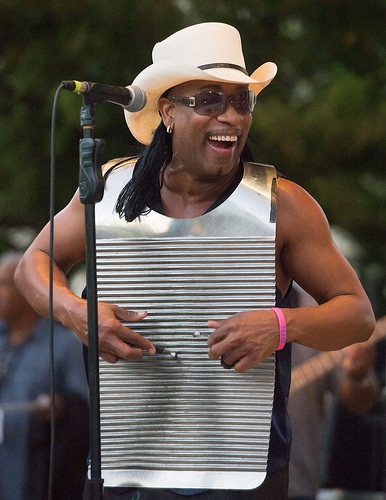 The bands at this year's Pinch A Palooza are known for their high-energy and diverse and dynamic styles. Another popular artist on the lineup is Rockin' Dopsie Jr. & The Zydeco Twisters. Accordionist, vocalist and washboard player Dopsie Jr. is a musical icon with a incredible stage presence bringing Zydeco, New Orleans Jazz, R&B and Classic Rock to new levels. Pinch A Palooza will also feature The Sheik with Resurrection for the first time at the event! This band will be performing original rock, pop, and dance tunes with a New Orleans funk twist. Also performing during Pinch A Palooza 2017 are talented local artists The Benchwarmers, and local classic rock band Breakwater Drive.
The full lineup schedule for this free crawfish festival can be found on the event website! April is the highlight of New Orleans music festival season, and you won't find a better mix of food, family fun, and live music than at Pinch A Palooza this Sunday.