Best of local talent take the stage
Celebrating Louisiana Crawfish Month during the peak of New Orleans music festival season, Deanie's Seafood will host its 9th-annual Pinch A Palooza Festival, a free crawfish festival celebrating Louisiana music and crawfish, the perfect tune-up for those going to Jazz Fest.
Pinch A Palooza—from noon – 8 p.m., Sun., April 22 in Bucktown—will feature more than 5,000 lbs. of boiled crawfish, a crawfish-eating contest for adults as well as one for children ages 6-12, crafts and games for the kids, and live music all day long.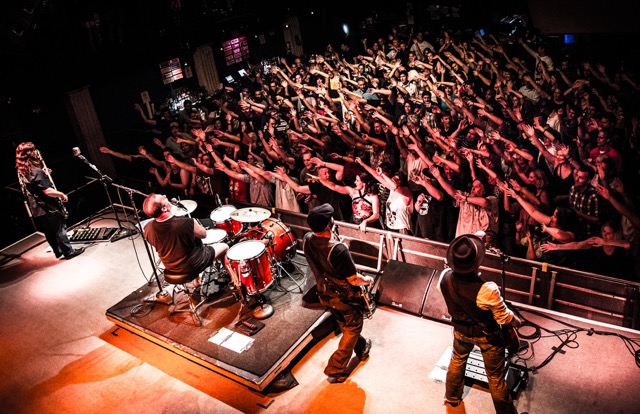 New Orleans beloved all-male dance troupe The 610 Stompers will also be warming up the crowd with their spectacular dance moves. Actor and comedian Johnny Rock will emcee Pinch A Palozza for the second year in a row. With music by Roux the Day beginning at noon, and local favorites Cowboy Mouth closing out the night, this crawfish festival features a lineup packed with local talent!
NEW ORLEANS MUSIC FESTIVAL SHOWCASES LOCAL BANDS
This year's Pinch A Palooza features a variety of musical talent and a range of genres, from rock, funk and pop to R&B, and soul. Headlining the crawfish festival are Louisiana natives Cowboy Mouth. The popular local band achieved mainstream success with their hit song "Jenny Says" and have been dishing up their unique style of "rock & roll gumbo" that's rooted in the party-friendly and high-energy spirit of the Big Easy. Sometimes compared to the Animal character from "The Muppet Show," band leader and singer, songwriter, and multi-instrumentalist Fred LeBlanc is sure to bring a fun and lively experience to the crowd.
This year's Pinch A Palooza performers are a rowdy mix of dynamic musicians who are ready to rock the crowd! Also hitting the stage, favorite local cover band The Topcats have been entertaining audiences for the past 34 years. Their rockin' covers will get you dancing and singing along to hits like "Jessie's Girl," "Centerfold," and even "Uptown Funk." Other bands included in the lineup are The Bucktown All-Stars, who will bring a mix of rock, funk, and Motown soul; and internationally acclaimed artists Vince Vance & The Valiants performing a well honed collection of pop, country and rock blended with a unique theatrical stage presence and comedy. The full lineup schedule for this free crawfish festival can be found on the event website!
April is the highlight of New Orleans music festival season, and you won't find a better mix of food, family fun, and live music than at Pinch A Palooza on April 22. Visit pinchapalooza.com for more info including food, entertainment, and family friendly activities!