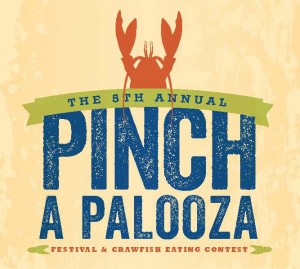 METAIRIE, LA.—March 30, 2014—Celebrating Louisiana's Crawfish Season, New Orleans' "Favorite Place to get Boiled Crawfish" (Tops of the Town 2014, New Orleans Magazine), Deanie's Seafood, announces its fifth-annual Pinch A Palooza Festival & Crawfish Eating Contest at its original location in Bucktown, 1713 Lake Ave., Metairie, from 11 a.m. to 8 p.m. on Sun., April 6. Admission is free.
Pinch A Palooza features a stellar lineup of local musicians and entertainers, an art market, activities for children and a variety of Deanie's favorite Crawfish specialties. Seven bands will perform, including: Vince Vance & The Valiants, The Bucktown All-Stars, The Revivalists, Shamarr Allen & The Underdawgs, Jonathon "Boogie" Long & the Blues Revolution, Jackson, Miss. bluegrass duo Bill & Temperance, and Breakwater Drive.
This year's event will benefit two local nonprofits that support the region's unique lifestyle and culture, the Louisiana Cultural Economy Foundation and Lake Pontchartrain Basin Foundation. For the second year, Louisiana Music Hall of Famer Vince Vance will emcee the day's events, which will include Crawfish Eating "heats" and a Championship round, children's activities and fishing casting demonstrations provided by Louisiana Wildlife & Fisheries and the Lake Pontchartrain Basin Foundation's New Canal Lighthouse Museum, a performance by the 610 Stompers and the Where Y'art Artists Market presented by the Louisiana Cultural Economy Foundation. New this year will be a Crawfish Race, Mardi Gras Indians Big Chief Romeo Bougere & the Ninth Ward Hunters, and a chance to meet and take pictures with Deanie's adorable mascot, Pincher the Crawfish.
"Pinch A Palooza is a day about celebrating one of the most unique foods and traditions in Louisiana. Being the first restaurant to receive a Louisiana Wild Seafood Certification in Greater New Orleans this year, we are especially excited to celebrate crawfish with the community," said Barbara Chifici, owner of Deanie's Seafood Restaurants & Seafood Market.
"LCEF is happy to be a part of this celebration of Louisiana culture," Aimee Smallwood, Executive Director of the Louisiana Cultural Economy Foundation. "Funds raised through Pinch A Palooza will enable us to make investments in artists and the cultural community that inevitably boost our overall economy."
In addition to boiled crawfish, fest-goers can enjoy a variety of crawfish dishes made famous by Deanie's Seafood such as Fried Crawfish Tails, Fried Crawfish Po-Boys, Crawfish Balls and Crawfish Nachos, plus beer, soda and specialty cocktails.
Pinch A Palooza entertainment and fun are provided free to the public. Food and beverages are available for purchase.
ABOUT DEANIE'S SEAFOOD
Voted "Best Seafood Restaurant in New Orleans" by readers of the Times Picayune and recipient of the 2013 Trip Advisor "Certificate of Excellence," Deanie's Seafood Restaurants and Market have been serving huge portions of the best boiled, broiled and fried seafood in New Orleans for more than 50 years.
Deanie's operates a thriving seafood market and catering business as well as two successful restaurants in the New Orleans area, the original location in the quaint fishing village of Bucktown and a second location in the heart of the historic French Quarter. We invite you to visit the original location in Bucktown at 1713 Lake Avenue or in the French Quarter at 841 Iberville Street (located at the corner of Dauphine and Iberville streets).
Deanie's Seafood is open 11 a.m. – 10 p.m., Sunday through Thursday and 11 a.m. – 11 p.m., Friday & Saturday. The Bucktown location closes at 9 p.m. Sundays and is closed on Mondays.
To learn more about Deanie's Seafood, visit us at www.deanies.com or call the restaurant directly at 504-834-1225.
For more information on the Pinch A Palooza Festival & Crawfish Eating Contest, visit www.pinchapalooza.com.