enjoy fresh Louisiana Seafood for National Seafood Month
October is National Seafood Month, and living in close proximity to the Gulf Coast gives us so many opportunities to celebrate the occasion! The Louisiana shrimp are fantastic, the gulf oysters are entering their prime season, and the Louisiana blue crabs have never been better.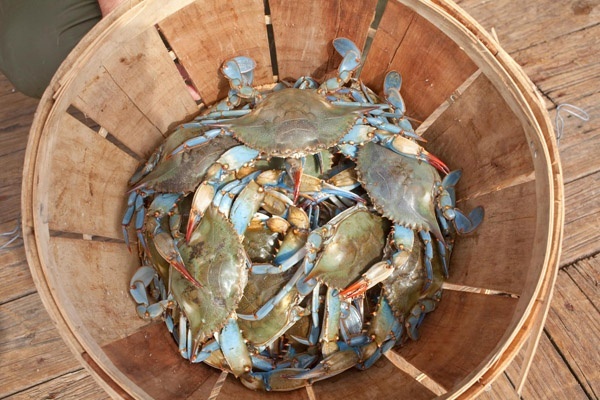 The Gulf Coast produces 70% of the nation's oysters, 69% of domestic shrimp, and is a leading producer of domestic hard and soft-shell blue crabs. Gulf Coast seafood impacts our regional and national economy profoundly with a combined income of $26.9 billion and an influence on sales of over $60 billion nationwide. On a flavorful note, the taste profile is superior because of the nutrient-rich environment of Gulf waters.
So not only is it plentiful and sustainable, but it's the greatest-tasting seafood available! National Seafood Month is a great time to up your seafood consumption. The USDA Guidelines recommend eating seafood at least twice a week, but only 1 in 10 of us are actually doing that.
Seafood is high in protein, nutrients, and omega-3 fatty acids, and eating fish once or twice a week has been associated with a 36% reduction in death from heart disease and a 17% reduction in death from any cause. It's clear that seafood plays an important role in a healthy diet. From BBQ Shrimp, to Crawfish Etoufee, to Seafood Gumbo, to Crabmeat Au Gratin, you can enjoy the best seafood our region has to offer at Deanie's Seafood restaurants. It's oyster season, which means that our raw, fried, or charbroiled oysters are fresh out of the gulf. Our Charbroiled Oysters are so popular, we've even begun serving them at our Bucktown location for the first time this fall!
Deanie's Seafood is proud to support our local fishing industry, and we use quality ingredients combined with the best wild and local seafood available. In 2014, Deanie's Seafood Restaurants became the first in Greater New Orleans and the 2nd (Bucktown) and 3rd (French Quarter) in the state to earn Louisiana Wild Seafood Certification from the Louisiana Department of Wildlife & Fisheries. The Wild Louisiana label guarantees our customers and patrons that the seafood we serve is natural, sustainable, and sourced from Louisiana waters.
At Deanie's Seafood Market in Bucktown, we regularly carry the freshest in-season seafood for our customers. You can also order Louisiana seafood online, such as gulf shrimp and blue crabs, prepared seafood items, and so much more.

Whether you're cooking a new seafood recipe at home, or enjoying a meal with family or friends at your favorite local seafood restaurant, take the time to experience something fun — and of course delicious — for National Seafood Month!