GET a Sneak Peek of Vince Vance Kids Holiday program, Profile of singer/songwriter Vance's 45+year career
Vince Vance & The Valiants appeared on WWL TV's Morning Show to sing holiday songs and provide a preview of the Vince Vance Kids Holiday Sing-Along & Dance Party at Deanie's Seafood Restaurant in the French Quarter.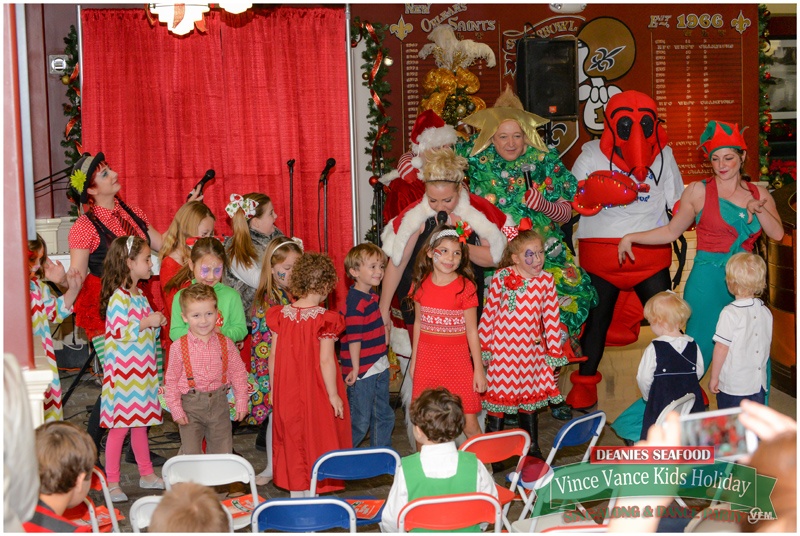 WGNO TV's News with a Twist also featured Vance in a profile of "25 years of a classic and more holiday cheer with Vince Vance."
Entertainer and composer Vance, who leads the live entertainment show for children at Deanie's French Quarter location at 841 Iberville St. this weekend and next.

Vance & The Valiants debuted songs from their new album, "Christmas State of Mind," plus perform their other popular songs, such as "I Wanna Be a Christmas Tree," Vance's holiday megahit, "All I Want for Christmas is You," and more.
Meanwhile, New Orleans' WGNO TV aired a profile of Vance's career as a musician and composer who started out as a band director at Donaldsonville High School in Ascension Parish while moonlighting as a French Quarter piano player. Vance, the last original member of Vince & The Valiants, has been with the band for 44 years. Read more about Vance's storied career, which includes 19 albums and three hit songs that topped the charts in various music categories.
Vince Vance Kids Holiday program is packed with fun
Beginning this weekend, join us for an original one-of-a-kind holiday event for the kids. Featuring a delicious breakfast buffet, photos with Santa, holiday arts and crafts, Christmas caroling, face painting, and a performance by Vince Vance and the Valianettes, this special holiday program will delight the little ones and adults alike.
Vance starts out in a full cowboy outfit as he rides in on his broomstick horse opening the show with his original song "Christmastime in Texas," then goes on the don a Christmas tree costume to regale the crowd with his original "I Wanna be a Christmas Tree," then into plaid pants and a shiny red jacket with green bowtie to "Rockin' Around the Christmas Tree," and so on.
Kids will be entertained with the story of Pincher the Crawfish, who led Papa Noel through a foggy Christmas Eve by lighting up the Bayou with his lighted claws. Vance and his helpers The Valianettes then lead the kiddos in "Rudolph the Red Nose Reindeer," "Jingle Bells," "Frosty the Snowman," and other classic carols. And, for a bonus learning opportunity, "Miranda the Mermaid" will teach the kids how to speak Mermish. The morning ends with a stop to Deanie's Candy Land Station for some Christmas treats.

To spread the holiday cheer, a portion of the proceeds from ticket sales to Deanie's Vince Vance Kids Holiday Sing-Along & Dance Party will go toward Angels' Place of New Orleans, serving families with children with life-threatening illnesses. Guests are invited to make a donation or bring an unwrapped gift for children staying at the home.
cheerful french quarter Holiday window displays
Each year Deanie's in the French Quarter showcases holiday decorations collected over 50+ years by proprietor Barbara Chifici in the restaurant's traditional department store display windows. Learn how the collection got started, and how Deanie's is carrying on this tradition in its location in the former D.H. Holmes Department Store Annex at the corner of Dauphine and Iberville streets.
Bring your friends and family to Deanie's, and we'll bring the cheer!