Three locally known foodies will participate in this year's Pinch A Palooza Crawfish Eating Contest
Deanie's Seafood is excited to welcome three New Orleans food aficionados and avid eaters of Louisiana fare to this year's Crawfish Eating Contest! They will compete against the other contestants in an attempt to make it to the final round and earn the title of the 2015 Pinch A Palooza Crawfish Eating Champion, plus a complimentary crawfish boil for 20 people.
Luke S., a.k.a Foodienola
Foodienola, also known as Luke S. is a lover of "enjoying life's simple pleasures"– mostly being food and wine. Luke was born in New Orleans but grew up on the Northshore, so knowing how to eat boiled Louisiana crawfish is in his blood!
Luke went to his first crawfish boil by the time he was four years old at his grandparents' house on the West Bank, the day he also tried his first oyster, and was in love at first bite.
"Anything with crawfish is my favorite dish," said Luke. One of his favorite crawfish dishes is the crawfish étouffée at the Mosquito Supper Club. Follow Luke's food journey around New Orleans and as he competes to be the Pinch A Palooza Crawfish Eating Champion Sun., April 19 in Bucktown on Instagram!
Pictured: Foodienola caught in the gym "training" for this weekend's contest.
Morgan F., community manager at Yelp New Orleans
Morgan is the community manager of
Yelp New Orleans
and is a lover of all things food, drink and fun-related in NOLA!
Morgan's last meal on earth would be boiled crawfish, she says. She is a believer in sucking the heads and even trying to pinch some meat out of the claws.
Originally from New Orleans, Morgan spent part of her time growing up in Idaho then returned to her beloved city after graduating from LSU in 2007. Morgan's first crawfish boil experience was at her family's annual Mother's Day crawfish boil.
"I like them spicy, and will eat them 'till my lips puff up, " said Morgan. "I like to call it Cajun botox."

Follow Yelp New Orleans on Twitter and Instagram to keep up with Morgan's picks for food, drinks and events around the city and even great deals!
Scott Gold, food writer & photographer
A native New Orleanian, Scott is a journalist, food writer, photographer and radio personality who writes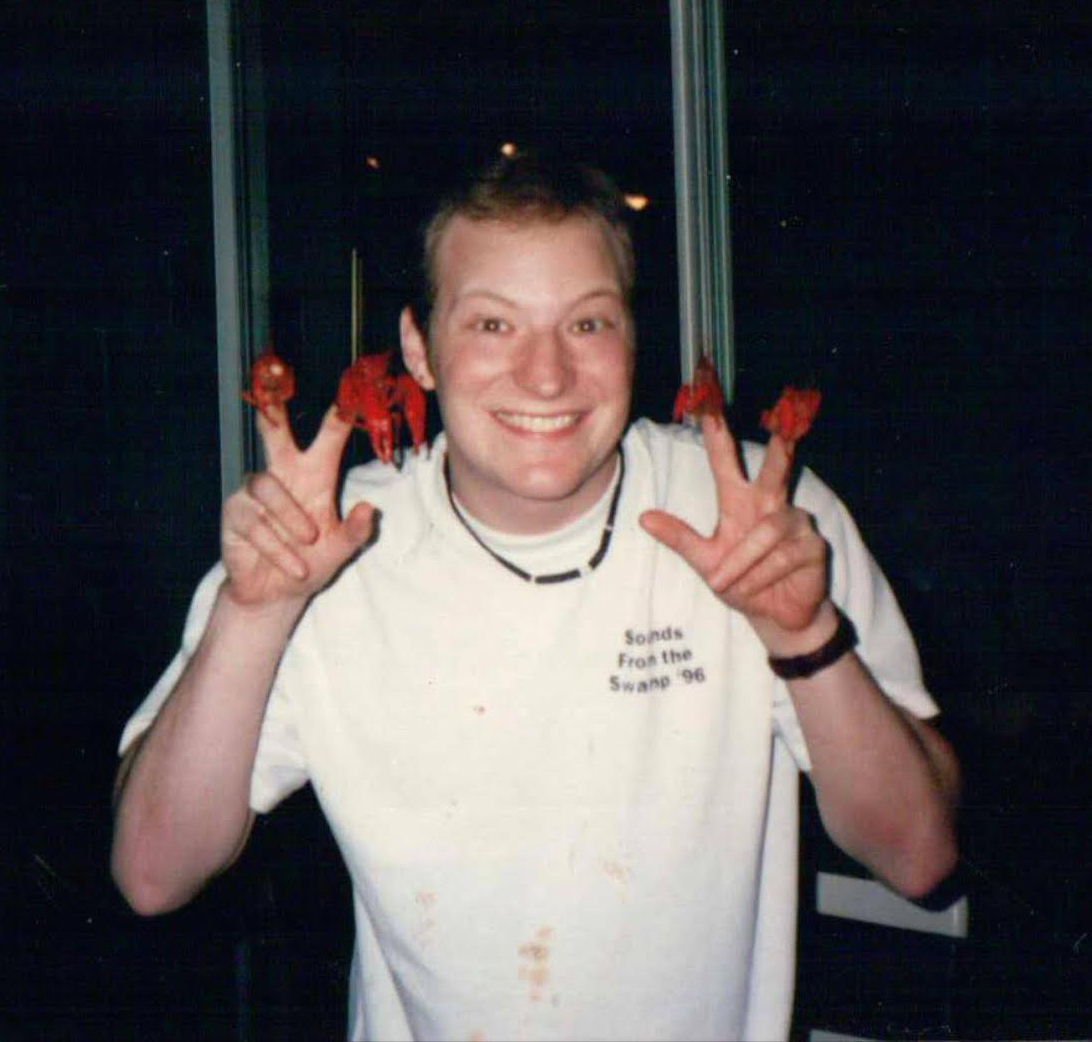 about the best tastes in New Orleans including his picks for "where to get the best crawfish in New Orleans."
Author of "The Shameless Carnivore," Gold's writing and photography has appeared in numerous publications including Gourmet magazine, Edible Brooklyn, The New Orleans Advocate, The Times Picayune/NOLA.com, Offbeat, Gambit and more. He is currently the New Orleans correspondent for Thrillist.com, a contributing essayist (and "food pornographer") for NolaVie.com and frequent contributor to WWNO's Louisiana Eats! with Poppy Tooker.
Scott has cultivated a torrid, life-long love affair with boiled crawfish as can be evidenced in his passionate essay about mudbugs for NolaVie, which also appeared on Louisiana Eats!
Scott is not a newbie to crawfish eating contests. Come out and see if he has what it takes to be the Crawfish Eating Champion Sun., April 19 in Bucktown! Follow Scott's foodie journey on Twitter and Instagram.
Pictured: Scott at age 19 with crawfish fingers.
Come out and see them compete Sun., April 19!
We can't wait to see the competitors in action this Sunday! Cheer for Scott in the first heat beginning at noon and to see Morgan and Luke compete, join us at the Crawfish Eating Stage at 1:50 for the second heat. The final round will be held at 3:40 will determine the 2015 Crawfish Eating Champion! Visit www.pinchapalooza.com for a full schedule of the day-long free outdoor festival's events.

{{cta('0cb64517-0a1f-47c0-8564-7322b1501837')}}