By Ed Lallo, Gulf Seafood Institute
As John Supan, the director of Louisiana's Sea Grant Oyster Research Laboratory and oyster specialist for the LSU Agricultural Center, prepares for the first season of production at the state's new $3 million oyster hatchery, he is focusing on water quality issues that have plagued the old Grand Isle site the past four years.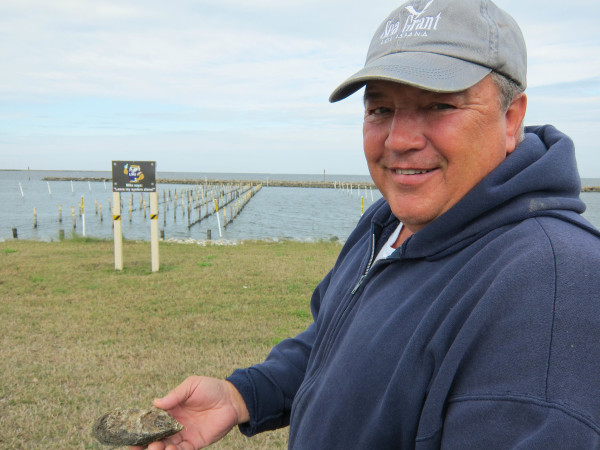 The first hatchery was established in 1990 as a commercial operation when the natural production of oyster seed was at record low levels because of drought and a low Mississippi River discharge. Photo: LSU Sea Grant
The old Grand Isle Sea Grant hatchery and lab faced exposure to all the elements the Gulf of Mexico could throw at it; from hurricanes to manmade catastrophes. One of the most erratic issued he faced was water quality.
Years in the planning, the new oyster hatchery will be shielded from the elements of the Gulf's uncertain weather, and Supan feels that he has come up with a solution for the fluctuation in water quality. According to the oyster researcher, periods of low salinity from wind-driven plumes of Mississippi River water or local heavy rainfall from tropical waves and, storms could affect larval production in a hatchery environment.
"Both situations can cause detrimentally lower salinity levels & increased dissolved organics resulting in high chemical oxygen demand (COD) levels," explained Supan. "When toxic conditions appear in the hatchery, young oyster larvae quit growing at about 90-100 microns, or just under half the size of pediveliger (or having a foot) that are ready to set and slowly die off. During these past four years, such brood failures have happened every year, sometimes twice per year and can last for weeks at a time because of our baywater circulation pattern behind Grand Isle."
The design of the new hatchery switches to a recirculating mode when low salinity events occur to manage around the problem. A recirculating bivalve hatchery is a new concept and is untested on a large scale.
"Those of us who are familiar with saltwater recirculating systems know that water chemistry changes, especially regarding pH, hardness and alkalinity or acid/base imbalance," explained Supan.
Louisiana Sea Grant operated the first oyster hatchery on Grand Isle for more than 20 years. During those two decades, the facility was destroyed by two hurricanes, threatened by an oil spill and relocated once.
The first hatchery was established in 1990 as a commercial operation when the natural production of oyster seed was down because of drought and low Mississippi River discharge. Gulf Shellfish Farms of Louisiana ran the facility at that time, and Supan, a young Sea Grant Marine Extension agent, was loaned to them to manage the hatchery and help train oystermen in remote setting techniques.
By 1993, naturally occurring seed production had rebounded and the need for a commercial hatchery passed. When the commercial venture folded, Louisiana Sea Grant acquired the hatchery and retooled it into a research facility with Supan at the helm.
Funded through the 2010 Deepwater Horizon Oil Spill Natural Resource Damage Assessment (NRDA) Early Restoration process as part of the Louisiana Oyster Cultch Project, the new oyster hatchery which will be capable of producing one billion oyster larvae a year and was constructed specifically to augment spat production on six oyster cultch plants that were placed on the public seed grounds in 2012 and 2013, if project monitoring showed a need to supplement them with hatchery-raised spat.
The new hatchery will be equipped with state-of-the-art equipment for algal production, water filtration and a seawater heater allowing the hatchery to extend its larval production beyond the current May-to-September season. The new hatchery also will be able to continue running essential equipment during tropical storms, with reduced hurricane preparation and recovery times.
Supan will provide the technical direction for all facets of producing diploid larvae in the new hatchery if larvae and spat is needed to supplement the NRDA Early Restoration cultch plants. However, Supan will also be continuing his long-standing research on oysters.
Most of Supan's research has traditionally focused on the development of a broodstock for producing triploid oysters – which have higher summertime meat yields and producing disease-resistant oysters. He is also examining alternative oyster growing systems, including two off-bottom cultivation techniques.
As John Supan, the director of Louisiana's Sea Grant Oyster Research Laboratory and oyster specialist for the LSU Agricultural Center, prepares for the first season of production at the state's new $3 million oyster hatchery. Photo: LSU Sea Grant
"My goal over the last seven years has been just to keep the research focus going," said Supan, "There were three recent summers where I did all my spawning at Auburn Shellfish Laboratory on Dauphin Island because our hatchery was a wreck from hurricanes. Then the 2010 season was ruined by the Deepwater Horizon oil spill. But now we're on a roll."
In January 2015, Supan visited Whiskey Creek Oyster Hatchery on the Oregon coast to discuss water chemistry problems with the hatchery's director Sue Cudd and her staff.
"I have a long relationship at Whiskey Creek, where I was mentored in my early hatchery career by Lee Hanson, a patriarch in commercial bivalve hatcheries." said the Sea Grant specialist. "Whiskey Creek, is where ocean acidification was first directly attributed to poor larval survival. During my visit, I learned a great deal about how they discovered their problem and how they have adapted to solving it."
In 2010, the Whiskey Creek hatchery was near failing because of persistent water problems. Larvae were slowly dying after reaching 90-100 microns. During their investigation, they discovered that east coast hatcheries have observed the exact same periodic dilemma. Teaming up with researchers at Oregon State and other institutions, they discovered ocean acidification was resulting from an upwelling off Oregon's coast, driving down the pH level of the ambient waters.
"Ultimately, they discovered the important relationship of the saturation point of aragonite, a crystalline form of calcium carbonate of bivalve shells, especially larval shell formation, in the seawater," said Supan about the research. "That low aragonite saturation seriously affects larval shell formation following egg fertilization, and that effect is exhibited later in larval development at 90-100 microns in size. Their study also found that Columbia River plumes can also cause acidification and affect the saturation point of aragonite."
The Whiskey Creek research found that knowing the saturation point of aragonite in the ambient waters is extremely important and could be addressed simply in the hatchery. The pH of their incoming water is now continuously monitored and when it drops below 8.25, a pump is activated to inject a saturated solution of calcium carbonate (soda ash) into the incoming water to improve the aragonite saturation level. They also test the saturation level regularly.
According to Supan, the trip was an epiphany. "I can easily see the relationship between my past hatchery observations and Whiskey Creeks' and how to address it at the new hatchery. Supan will begin water chemistry analyses at the new hatchery with greater interest in this important parameter.
About the Author: Ed Lallo is the editor of Gulf Seafood News, the online newsroom for the Gulf Seafood Institute.