Blue Crab Task Force Focuses on Sustainability
Revered for their delicate, sweet flavor and cooking versatility, delectable Louisiana blue crabs have become a standard of fine dining and backyard boils alike. Louisiana blue crab account for a quarter of all crabs harvested in the United States. In late spring and early summer, seafood lovers have the added pleasure of the availability of soft shell crab —Louisiana blue crab that have outgrown and shed their hard shell.
LOUISIANA BLUE CRAB INDUSTRY
Blue crabs are harvested in traps year-round, but May through October is the height of the season. Since the 1800s, Louisiana has supported a thriving commercial seafood industry in which the catching and selling of crabs has supported the livelihood of many families and communities. The Louisiana commercial crabbing industry is an important part of the state's seafood economy. More than 25 percent of all blue crabs harvested in the United States come from Louisiana waters, and the crabbing industry generates more than 3,000 jobs and almost $300 million per year.
COMMERCIAL CRABBING REGULATIONS

Overharvest of blue crab and weather and environmental conditions the last several years have led to sustainability fears of the tasty crustaceans. The lack of a severe winter freeze has meant that redfish and black drum, predators of the blue crab, have thrived and their populations have grown. The indicator for overfished crab is when the population falls below 17.1 million pounds, and this benchmark number has dipped in recent years.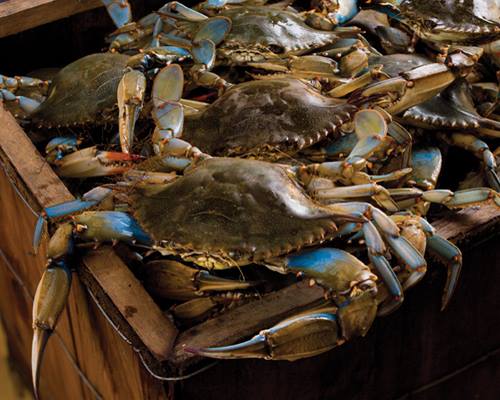 The Louisiana Wildlife and Fisheries Commission has authority to prohibit the use of crab traps in state waters for a maximum 16 consecutive-day period between Feb. 1 – March 31 each year. Last summer the commission approved new regulations to extend the Louisiana blue-crab fishery closure to 30 days in February and March in 2017-2019 due to sustainability concerns. During this period, abandoned or old crab trabs can be removed and crabbing is prohibited to allow the Louisiana blue crab population to stabilize.
The Louisiana Blue Crab Task Force voted in early July to suggest changing the 30-day closure to a female-only closure in March and April after commercial crabbers expressed frustration with the February/March closure, a period when the price of crabs is high during the Lenten season. The date change will not be finalized until it passes through the Wildlife and Fisheries Commission.
SUSTAINABILITY OF BLUE CRABS
Fortunately, the blue crab population is expected to recover, given good weather and environmental conditions. Crabs are short-lived creatures with a life span of about 3 years, and young crabs have a high survival rate. They also are extremely prolific, as females spawn multiple times during one mating session. After fishing pressure is reduced, the Louisiana blue crab population is expected to rebound, according to the Louisiana Department of Wildlife & Fisheries.
This past December, the Louisiana blue-crab fishery was the first to go through the process to receive the Audubon Nature Institute's GULF Responsible Fisheries Management certification, aimed to ensure that seafood is responsibly harvested and sustainable.

ENJOY LOUISIANA BLUE CRABS AT DEANIE'S
The seafood industry in Louisiana is a vital part of our local economy, and Deanie's Seafood is committed to supporting that culture. Deanie's was the first restaurant and seafood market in the Greater New Orleans region to earn the Louisiana Wild Seafood Certification, which guarantees that we serve only seafood that is natural, sustainable, and sourced from Louisiana waters.
Deanie's is known for serving fresh Wild Louisiana seafood and is continually recognized as one of the New Orleans' best seafood restaurants. Blue crabs are served in a variety of ways on our menu in dishes like Crabmeat Nachos, Crabmeat Remoulade, Crabmeat Au Gratin, Crab Quartet, Soft Shell Crab or fresh lump crabmeat as a topping to any of our entrees.
{{cta('d26483fa-75b3-400d-97eb-b1fc3c017f6c','justifyleft')}}