Deanie's Holiday Take-Home Menu Offers Louisiana favorites
Planning on preparing an authentic Louisiana meal this holiday season? With Deanie's on your team, you won't have to do it alone! Thanksgiving is just a month away, and our popular Holiday Take-Home Menu is here to help again this year, offering delicious and otherwise time-consuming dishes to reinforce your Thanksgiving and Christmas Holiday menu.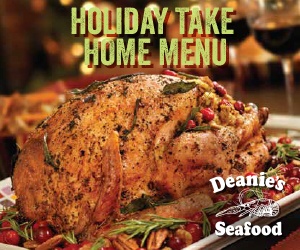 Add one or more of Deanie's favorites to your spread, such as popular sides like shrimp and crab stuffed mirlitons, oyster patties or corn maque choux. Deanie's fine foods will add flavor and convenience to your meals, saving you time and effort and ensuring home-cooked and authentic foods delicious enough that you can pass them off as your own. (Our lips are sealed!)
So Good You Could Have Made it from Scratch
You'll be proud to put many of Deanie's selections on your table, like fried or smoked turkey, pork loin, or beef brisket. And don't forget Deanie's signature recipes for some Louisiana hallmarks like seafood gumbo, oyster dressing and Crawfish Étouffée.
There's also a selection of holiday desserts, including Red Velvet Cake, homemade Cheesecake, Pumpkin Cheesecake—even an Eggnog Cheesecake topped with a Southern Comfort Anglais sauce.
Deanie's Holiday Take-Home Menu is also a time-saving way to make a welcome appearance at friends' and families' holiday get-togethers, when you show up with a hostess gift of a dish you know they'll love.
Place your order now
{{cta('609a209a-af77-4665-a4c0-c0533c1574f9')}}