New Orleans Holiday Private Dining Planning Tips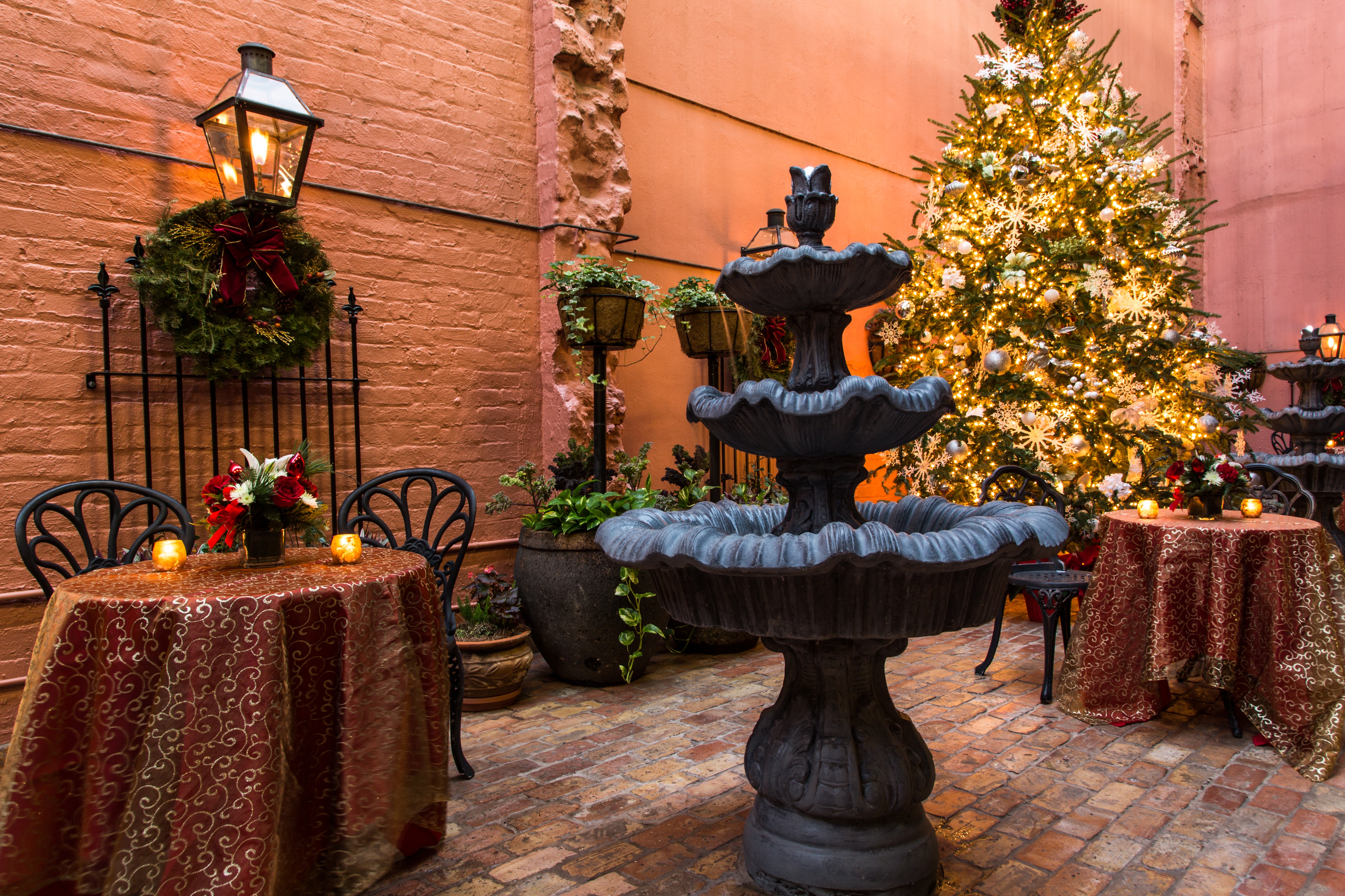 Let's say it's seven weeks from Christmas and it's your job to put together the company Christmas Party. And you're just now getting around to it. Whether hosting a small gathering in your home, planning a long holiday luncheon at a restaurant, or a swanky affair at a private party venue in the French Quarter, once you have the basics down (invitation list, location, type of party and party theme) you can begin planning those special extra touches that will make your holiday event one to remember. Here's a quick checklist to get your party off the ground and successfully planned and celebrated.
Deanie's Holiday Party Planning Checklist
1. Choose the quantity of guests. Having a general idea of the number of people who will be attending is a good starting point, since nearly every other detail will be based on your estimated head count. Is your holiday party open to employees or association members only, or plus guest or spouse? Do you want to invite clients, and if so, how many?
2. Choose a location. Is this year's holiday party a potluck in the lunch room over plastic tableclothes, a happy hour at a local bar or a cocktail party or seated dinner? Once you have an idea of the type of party, you'll be in a better position to choose a venue. There are a range of New Orleans private dining venues, from formal to classic to casual, including Deanie's Seafood's two private dining rooms and private Vieux Carre courtyard at Deanie's in the French Quarter.
3. Now it's time to pick a menu. If you've selected a local restaurant or private party venue, you'll likely have several menu options to choose from. For a two-hour cocktail party, consider having two passed hors d'oeuvres and three buffet items so guests can nibble without having to leave a conversation and grab a plate for something more. Consider adding a dessert and coffee station if your cocktail party will extend a third hour. For a seated dinner, you'll likely have a choice of starters, a salad/soup course, two or three entree options for your guests to select from, and a dessert course.
4. Name a Holiday Party Committee to help handle smaller details and provide creative ideas, and an outlet for when things go wrong and you need someone to blame. Just kidding… but it's definitely helpful to have another set of minds working collectively towards the event.
5. Decide on a theme, from silly to formal to Hollywood to movie-themed, there are many choices. Most folks in New Orleans have costumes or other wacky themed clothes in their own closets already, so this should be a no-brainer.
6. Now that the top-level decisions have been made, it's time to send the invitations. Consider setting up an eventbrite page or other electronic format so your guests can RSVP and see who is coming. P.S. This is a good assignment for members of item 4 above!
7. Choose your entertainment. This can be Christmas carols piped in over the speakers, a DJ, a three-piece acoustic band, a choir or Top 40 band. There are many resources online, but you can check out some options for local cover bands HERE.
8. What other activity or entertainment do you want to round out the festivities? You may decide to have a Photo Booth for your guests to capture the moment, a magician, a Karaoke machine or a special visit from Santa and his elves.
9. 'Tis the season of giving. This is your opportunity to share a token of appreciation with your colleagues and clients, whether it's a small item such as a goodie bag of Christmas cookies, a branded item or something else. Your holiday party is also a chance to collect gifts to donate to those in need or to create camaraderie with a gift exchange among colleagues.
10. Last but not least are the decorations. Most venues will be decorated with seasonal boughs, lights and ornaments, but that doesn't mean you can't put your personal touch on the day. You'll be amazed what some cut flowers, candles and glitter can do to set the mood!
More tips for Holiday Party Planning
There are many other things to consider when planning your holiday office party in New Orleans, including parking, activities to encourage team building, and deciding what part of town to host your event. Venues and party spaces can be found all throughout the city, from Uptown to Metairie.
Click HERE to download our guide for planning a holiday office party in the French Quarter, and get started with your party preparations today!
{{cta('f5b6be5b-af06-47bf-b085-f6e4a2cdc1b1')}}