It's Mardi Gras, and that means it's Crawfish season in Louisiana.
Here at Deanie's Seafood, we've been eating Cajun crawfish for over 50 years. When peeling crawfish is part of your culinary background going back as far as learning to hold a fork and knife, sometimes it's hard to remember that there's a trick to eating them.
For over 50 years Deanie's has been serving huge portions of the best boiled, broiled and fried seafood in New Orleans.
From its original seafood market, and later restaurant and market in Bucktown, and its se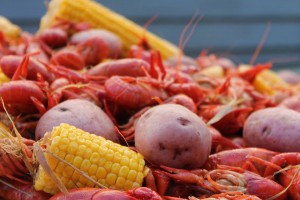 second seafood restaurant located in the French Quarter, we've introduced hordes of boiled Louisiana crawfish novices to this Cajun delicacy. Once you get the trick, you'll be ready for more!
Deanie's is recognized as one of the best places in the Big Easy to get boiled crawfish, and we serve only Wild Louisiana crawfish from our two New Orleans restaurants and seafood market.
Don't live on the bayou? You can order from Deanie's Seafood Market online at www.shopdeanies.com.
But first you have to figure out how to eat them. What is the best technique? How do you get all that tail meat to come out? To suck the head or not? And whether you planned it that way or not, there is always the added element of competition, because someone at your table is bound to turn your crawfish boil into an amateur crawfish eating contest.
HOW TO EAT CAJUN CRAWFISH
GRIP
Hold the crawfish on both sides of the tail joint with your thumbs on one side of the shell and your index fingers on the other.
SNAP
Twist just above the abdomen and snap the head away from the crawfish tail. Discard the head, or if you're feeling especially brave, suck the juice from the head.*
PEEL
Use your thumbs to peel the shell from the widest part of the tail for a clearer passage for your crawfish meat.
TUG
Hold the tip of the tail with your thumb firmly pressing up on the underside and tug the tail meat upward using your teeth.
REPEAT
Repeat steps 1 through 4 about 300 times. A good rule of thumb in Louisiana is to serve 5 lbs. of boiled crawfish per person.
*Sucking the head is optional. Be careful with your technique if you do opt to suck the head since inhaling that spicy seasoning can cause you to break out into an embarrassing coughing fit revealing yourself as a crawfish novice.
If you need more instructions, check out this video at Louisianatravel.com or see New Orleans specialty T-shirt shop owner Fleurty Girl's "How to eat Crawfish in New Orleans" tutorial.