NEW ORLEANS—September 3, 2014—New Orleans' WVUE Fox 8 recently brought their new anchor Greg Adaline to Deanie's Seafood in Bucktown to experience Louisiana seafood and raw oysters for the first time. A recent Michigan transplant, Greg is new to the food and culture of New Orleans.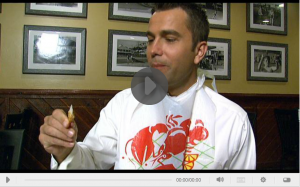 The Fox 8 team took Greg around the city to give him a taste of the quintessential New Orleans experiences. Greg and co-anchor Shelley Brown visited the original Deanie's Seafood's original location in Bucktown, where they sampled our fried Crab Claws, Seafood Gumbo, our famous fried Seafood Platter, Coconut Custard Bread Pudding and, for Greg's first time, Raw Oysters. Co-anchor, Shelley Brown explains to Greg that in New Orleans, "We live to eat." Greg's Deanie's favorites were the Crawfish Dressing Balls on our Seafood Platter and Deanie's Seafood Gumbo.
ABOUT DEANIE'S SEAFOOD
For nearly 50 years, Deanie's Seafood Restaurants and Market have been serving huge portions of the best boiled, broiled and fried seafood in New Orleans. Deanie's operates a thriving seafood market and catering business as well as two successful restaurants in the New Orleans area, the original location at 1713 Lake Ave. in the quaint fishing village of Bucktown (Metairie) and a second location in the heart of the historic French Quarter, located at 841 Iberville St.
In 2014, Deanie's Seafood Restaurants became the first in the greater New Orleans area and the second (Bucktown) and third (French Quarter) in the state to earn Louisiana Wild Seafood Certification through the Louisiana Department of Wildlife and Fisheries, guaranteeing its customers and patrons that the seafood they enjoy is natural, sustainable and sourced from Louisiana waters.
Visit Shopdeanies.com for fresh Louisiana seafood and Deanie's prepared items shipped anywhere in the United States. To learn more about Deanie's Seafood, visit us at Deanies.com or call the restaurant directly at 504-834-1225.