In recent years, people have become more conscious of healthy eating and want to eat lighter foods. The American Heart Association recommends eating fish at least two times per week. This means two servings of 3.5 ounces of cooked fish or about ¾ cup of flaked fish.
Fish is an excellent source of protein and omega-3 fatty acids and it's usually low in saturated fat. Eating fish is believed to reduce the risk of dying of heart disease, and a recent study found eating baked or broiled fish weekly boosts brain health.
While many people are starting to eat a healthier diet, U.S. seafood consumption is down in recent years. Surveys show that consumers aren't sure how to cook fish, and younger generations tend to be introduced to seafood while dining at restaurants rather than prepared and served at home.
We are lucky to live in a region where fresh fish is readily available in grocery stores and seafood markets. At Deanie's Seafood Market in Bucktown, 1713 Lake Ave., Metairie, we regularly have fresh redfish, black drum, catfish, tuna and more available to our customers (often depending on what's in season).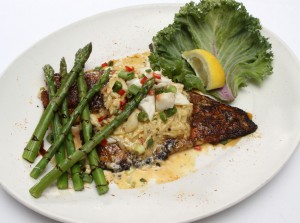 One of our favorites to prepare is a blackened redfish topped with Louisiana lump crabmeat (as pictured).
Redfish is a firm, white-fleshed fish that is low in saturated fat. It's a good source of niacin, vitamin B6, vitamin B12, and calcium and is a very good source of protein, phosphorus, and selenium (www.fishwatch.gov).
Redfish can be prepared several different ways. Try blackening, grilling or broiling for lighter options or frying and topping with crawfish étouffée if you feel like indulging. For a blackened redfish, combine some of your favorite spices such as cayenne pepper, garlic powder, black pepper and other Creole seasonings and dip into butter or olive oil before coating in your seasoning mixture and pan searing in a heated skillet.
See http://www.food.com/recipe-finder/all/redfish for a version of Deanie's blackened redfish and additional easy to prepare redfish recipes.
Come visit our Seafood Market and pick up some fresh fish to prepare at home today! Or visit www.shopdeanies.com for an assortment of other seafood such as Louisiana shrimp and Louisiana blue crab shipped anywhere in the U.S!