NEW ORLEANS, LA. –Dec. 16, 2014—In a city known for seafood and one of the culinary capitals of the world, Deanie's Seafood Restaurants'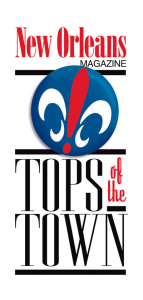 two locations have been recognized as the "Favorite Seafood Restaurant in New Orleans" in New Orleans Magazine's "Tops of the Town 2015" reader's survey. A locally owned family restaurant that was the first in New Orleans to become certified for serving 'Authentic Louisiana Wild' Seafood, Deanie's Seafood also was ranked third among New Orleans' "Favorite Place to Get Raw Oysters."
New Orleans Magazine readers were surveyed on their favorite local personalities, sports teams, shopping and entertainment venues, dining and more. Deanie's Seafood Restaurants' No. 1 "Favorite Seafood Restaurant" ranking was up from the No. 3 spot in "Tops of the Town 2014."
"We are so grateful that Deanie's loyal customers take the time to show their appreciation of our devotion to serving the freshest 'Authentic Louisiana Wild' seafood the Gulf has to offer," said Barbara Chifici, proprietor of Deanie's Seafood. "It is always an honor to be considered among the best of so many fine dining establishments in the city of New Orleans."
Family-owned and operated for over 50 years, Deanie's is nationally known for offering fresh Louisiana seafood prepared with Deanie's Signature Creole Seasonings, including fresh and fried Oysters, Shrimp, Blue Crab and Crawfish.
Deanie's Seafood was the first restaurant in New Orleans to earn certification through the "Authentic Louisiana Wild Seafood" program administered by the Louisiana Department of Wildlife and Fisheries, a program that ensures consumers they are enjoying the freshest local seafood from Louisiana waters.
Serving more than 1 million customers per year, Deanie's Seafood operates two restaurants in the New Orleans area, including its original restaurant and seafood market located in Bucktown and a second restaurant in the French Quarter, as well as an online retail shop for fresh Louisiana seafood and prepared items shipped anywhere in the United States, ShopDeanies.com.
To learn more about Deanie's Seafood, visit us at www.deanies.com or call the restaurant directly at 504-834-1225.
# # #
ABOUT DEANIE'S SEAFOOD
For nearly 50 years, Deanie's Seafood Restaurants and Market have been serving huge portions of the best boiled, broiled and fried seafood in New Orleans. Deanie's operates a thriving seafood market and catering business as well as two successful restaurants in the New Orleans area, the original location at 1713 Lake Ave. in the quaint fishing village of Bucktown (Metairie) and a second location in the heart of the historic French Quarter, located at 841 Iberville St.
In 2014, Deanie's Seafood Restaurants became the first in the greater New Orleans area and the second (Bucktown) and third (French Quarter) in the state to earn Louisiana Wild Seafood Certification through the Louisiana Department of Wildlife & Fisheries, guaranteeing its customers and patrons that the seafood they enjoy is natural, sustainable and sourced from Louisiana waters.