Restaurant's second location helps revitalize neighborhood
In a town famous for great seafood, Deanie's Seafood is in a class by itself. Deanie's is a "scratch house," meaning everything is made in-house with the best ingredients available.
After taking ownership of the original Deanie's restaurant and seafood market in 1982 with her late husband Frank, Deanie's proprietor Barbara "Mrs. Barbara" Chifici opened the second Deanie's restaurant in 2001 at the corner of Iberville and Dauphine streets in the French Quarter.
Now in its 18th year, Deanie's Seafood in the French Quarter is a a draw for both locals and tourists. It has become a destination restaurant whose popularity rivals stalwarts of the Quarter including Brennan's, Arnaud's, Galatoire's and Acme Oyster House. The restaurant is managed by son Keith Chifici.

Taking a Risk: Opening a Deanie's in the French Quarter
Some 18 years after taking over Deanie's Seafood Restaurant in Bucktown with her husband, Mrs. Barbara focused her efforts on a new endeavor: Delivering the same quality of home-cooked seafood with Deanie's signature recipes in the French Quarter.
When she pursued the second Deanie's location, friends and loved ones weren't certain it would be a success,
and several discouraged her from taking the risk. The restaurant is located in an area of the French Quarter that was just beginning to be revitalized at the time in a building that housed the former cafeteria of the iconic D. H. Holmes Department Store.
Mrs. Barbara admits that one of the things that appealed to her about the location was its history as part of D. H. Holmes. She recalls fondly shopping excursions along Canal Street when she was a child; but by the mid-1990s the neighborhood had lost much of its nostalgic luster. Many of the stores along Canal had closed and T-shirt shops and liquor stores cropped up in their place.
"No one thought I should open the restaurant in the French Quarter," she said. "But Deanie's in Bucktown had been mine with my late husband, Frank, and I wanted a business that belonged to me."
Mrs. Barbara was one of the few female restaurateurs in New Orleans, among the likes of Leah Chase and Ella Brennan, matriarch of the extended family of restaurateurs. In 2013, she was awarded an American Culinary Federation New Orleans' Outstanding Foodservice Professional Award. Today five of Mrs. Barbara's seven children are involved in the operations of the restaurants; a sixth is a restaurateur in Mandeville.
In 2000, The Ritz Carlton New Orleans had invested $250 million in restoring the Maison Blanche Department Store and Kress five and dime store, just across Dauphine Street on Canal, to preserve the turn-of-the-century design elements of the buildings and convert them into a 527-room Ritz Carlton hotel. Just a year later, in December 2001, Deanie's had put its stamp on the D. H. Holmes Annex building and opened as a full-service seafood restaurant. After Hurricane Katrina, the Chificis invested in a renovation of the restaurant even more extensive than the original build-out.
With an art deco feel and large wrap-around bar at the entrance, the restaurant features an extensive bar menu, a raw and charbroiled oyster station, comfortable dining room, and private dining space for special events and parties.
As a tribute to Christmases of her childhood, Mrs. Barbara had five display windows installed along Dauphine Street so that she could decorate the restaurant for the holidays with old-fashioned holiday window displays. For the past five years, Deanie's in the French Quarter also has offered a fun breakfast with Santa and holiday sing-along program, Candyland Christmas with Vince Vance, which is an official event of the Christmas New Orleans Style celebration.
Deanie's Sets the Bar among New Orleans' Best Seafood Restaurants
Year after year, Deanie's is voted among the best seafood restaurants in New Orleans by locals. The restaurant earned its place in the book New Orleans' Best Seafood Restaurants, which was published in 2015 by award-winning local author Ann Benoit. A professional restaurant evaluator and consultant, Benoit selected restaurants that have set the bar higher than most others for her project and restaurateurs "so deeply involved in their restaurant that they have become innovators."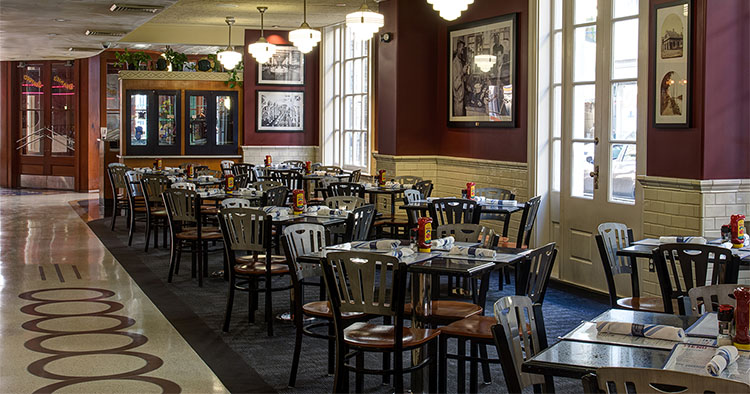 "Deanie's has become an institution–it's a wonderful example of a restaurateur, Barbara Chifici, who has grown her business far beyond what anyone imagined when they first opened their doors, through a lot of hard work, innovation and creativity," said Benoit, a member of American Culinary Federation, the International Association of Culinary Professionals and the James Beard Foundation.
Of critical importance for seafood restaurants, Benoit added, is a very high level of skill and the ability to evaluate seafood product on a daily basis and determine what is available, what's in season, what the market rate is, and when a particular seafood will be in sufficient supply.
Offering Authentic New Orleans Cuisine Made From Scratch
Known mainly for its fried and boiled seafood and casual family atmosphere in a city of great chefs, Deanie's Seafood doesn't often get recognition for its culinary chops. But the restaurant is consistently voted a favorite seafood restaurant by locals, who know the food is a high quality, authentic taste of home highlighting local seafood and shellfish bountiful in Louisiana waters. The restaurant uses all its own recipes – from sauces and seasonings to fry mix, salad dressings, stuffings and housemade desserts. Deanie's in the French Quarter recently updated its kitchen to accommodate an Executive Pastry Chef to expand its dessert offerings.
Deanie's Seafood's menu showcases the dishes that have been favored by New Orleanians for generations, offering a taste of home that brings back fond memories of their childhood kitchens. It highlights many traditional dishes, including crawfish étouffée, seafood & okra gumbo, crawfish bisque, crabmeat au gratin, bread pudding, New Orleans Barbeque Shrimp, boiled blue crab, crawfish and shrimp, and, of course, fried seafood.
And, serving over 1 million customers in three restaurants, plus running its own seafood market in Bucktown, Deanie's Seafood is more than a New Orleans icon, it's tradition.