NEW ORLEANS—August 25, 2014—New Orleans restaurant-goers again selected Deanie's Seafood Restaurants as one of the city's "Best Seafood Restaurants" in Gambit Weekly's 2014 "Best of New Orleans" Readers Choice Awards.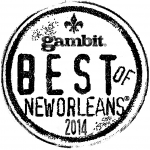 Each year, Gambit Weekly asks readers to select their favorite dining, drinking and entertainment venues: Deanie's Seafood Restaurants in Bucktown and the French Quarter were voted the 2014 No. 3 "Best Seafood Restaurant" in New Orleans. A local favorite, Deanie's also holds the No. 2 "Best Seafood Restaurant" spot in Where Y'at magazine's "Best of the Big Easy" Readers Pick awards, and is No. 1 "Best Seafood Restaurant" in the Times Picayune's 2013 "Reader's Choice Awards." Family-owned and operated for over 50 years, Deanie's Seafood is the first restaurant in New Orleans to earn certification through the "Authentic Louisiana Wild Seafood" program administered by the Louisiana Department of Wildlife and Fisheries, a program that ensures consumers they are enjoying the freshest local seafood from Louisiana waters.
"We are always pleased to be recognized for our quality Louisiana seafood and made-from-scratch recipes," said Deanie's Seafood Proprietor Barbara Chifici.
Serving more than 1 million customers per year, in addition to its two restaurant locations in the French Quarter and Bucktown, Deanie's Seafood also operates a seafood market and online retail store offering Fresh Louisiana Seafood and prepared items.
ABOUT DEANIE'S SEAFOOD
For nearly 50 years, Deanie's Seafood Restaurants and Market have been serving huge portions of the best boiled, broiled and fried seafood in New Orleans. Deanie's operates a thriving seafood market and catering business as well as two successful restaurants in the New Orleans area, the original location at 1713 Lake Ave. in the quaint fishing village of Bucktown (Metairie) and a second location in the heart of the historic French Quarter, located at 841 Iberville St.
In 2014, Deanie's Seafood Restaurants became the first in the greater New Orleans area and the second (Bucktown) and third (French Quarter) in the state to earn Louisiana Wild Seafood Certification through the Louisiana Department of Wildlife & Fisheries, guaranteeing its customers and patrons that the seafood they enjoy is natural, sustainable and sourced from Louisiana waters.
Visit shopdeanies.com for fresh Louisiana seafood and Deanie's prepared items shipped anywhere in the United States. To learn more about Deanie's Seafood, visit us at www.deanies.com or call the restaurant directly at 504-834-1225.
# # #