Half priced drinks and appetizers during happy hour Monday – Friday

METAIRIE, LA. — Deanie's Seafood in Bucktown is now featuring a Half Price Happy Hour from 4-7 p.m., Monday through Friday. Join us at our Bucktown location, 1713 Lake Ave. in Metairie, for 1/2 price appetizers, draft beer, house wines by the glass and mixed drinks (well brand), available in the restaurant and bar. Enjoy appetizers such as New Orleans Barbeque Shrimp, fried or broiled crab claws, artichoke hearts, stuffed mushrooms, onion rings, calamari, fried crawfish tails and stuffed artichoke—all half off!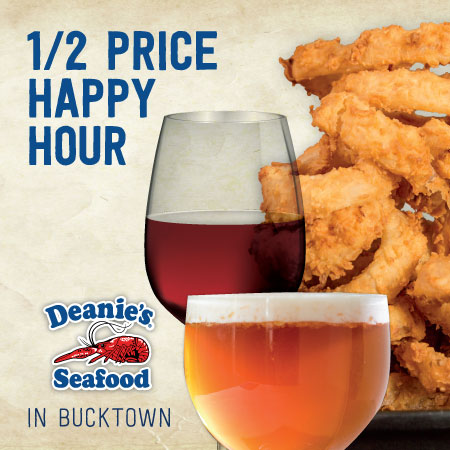 Items priced at market price such as boiled seafood, raw or charbroiled oysters are not included in the happy hour special. Visit our website for the full menu at each restaurant location.
Deanie's Seafood continues the tradition of serving up beloved family recipes featuring the freshest Louisiana seafood available with its latest menu update. The new menu adds some classic Louisiana items such as traditional crawfish bisque, several Italian items, including stuffed mushrooms, Italian Salad, Caesar Salad and calamari wedge salad, as well as new dishes like New Orleans BBQ Oysters and crabmeat nachos. We're also offering more sides and more topping options like lump crabmeat, crawfish tails, and fried oysters, which can be added to any entree.
Deanie's Seafood Restaurant and Seafood Market in Bucktown are now open daily. Enjoy the freshest Louisiana seafood available, for lunch or dinner, seven days per week, including charbroiled or New Orleans Barbeque Oysters, crab quartet, stuffed shrimp, soft shell crab, boiled crawfish, po' boys and much more.
ABOUT DEANIE'S SEAFOOD
Deanie's Seafood Restaurants and Market have been known for serving hearty portions of the best boiled, broiled and fried seafood in New Orleans prepared in our signature Creole seasonings for more than 50 years. Deanie's Seafood was the first restaurant and seafood market in the Greater New Orleans region to have earned Louisiana Wild Seafood Certification from the Louisiana Department of Wildlife and Fisheries in 2014.
Since 2010, Deanie's has delivered an outdoor crawfish and music festival, Pinch A Palooza, at its location in Bucktown. The 8th-annual Pinch A Palooza Festival and Crawfish Eating Contest takes place Sun., April 23 and features performances by Flow Tribe, Amanda Shaw & The Cute Guys, Rockin' Dopsie & the Zydeco Sisters, Vince Vance & The Valiants and The Sheik with Ressurection.
Deanie's operates a thriving seafood market and catering business as well as two successful restaurants in the New Orleans area, the original location at 1713 Lake Ave. in the quaint fishing village of Bucktown (Metairie) and a second location in the heart of the historic French Quarter, located at 841 Iberville St. Our restaurants and seafood market are open seven days per week. The online seafood market is located at Shopdeanies.com.