Vince Vance Kids Holiday Sing-Along & Dance Party
Bring the kids to Deanie's Seafood in the French Quarter to enjoy breakfast with Santa and a fun, interactive holiday music program that's sure to spread Christmas cheer, the Vince Vance Kids Holiday Sing-Along & Dance Party. Deanie's special holiday program will delight the little ones with an interactive sing-along, face painting, holiday crafts, plus breakfast and photos with Santa. Seating is limited; two seatings, 9-11:30 a.m., Dec. 13-14.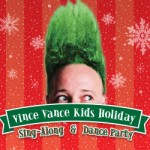 Tickets are $30 per person (plus tax and gratuity) with free entry for children three and under, and each child receives a commemorative Christmas songbook signed by Vince Vance and Santa Claus. Order your tickets online or call (504) 581-1316 for information.
Vance will entertain the audience with traditional Christmas songs such as Jingle Bells, Rudolph the Red-Nosed Reindeer, Silent Night, Away in a Manger, and Vance's mega hit, All I Want for Christmas is You, and many more! With games, prizes, special surprises and delicious treats, the Vince Vance Holiday Sing-Along at Deanie's promises to stir tidings of joy for the Christmas season.
Bring Deanie's home-cooked Goodness to your Holiday Gatherings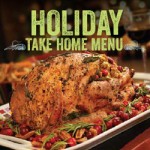 Celebrate this year's holidays with our Holiday Take Home Menu from Deanie's Seafood. Pick up a variety of traditional home-cooked celebratory dishes for your gathering or office party, or order the entire meal ready to serve from our selection of holiday meats and side dishes, fixings plus dessert!
Our à la carte holiday take-home menu is available for Thanksgiving and Christmas and includes a selection of main dishes-Deep Fried and Smoked Turkey, Smoked Brisket, Smoked Boston Butt Pork Roast and Smoked Pork Loin. Our delicious homemade side dishes include Stuffed Mirlitons; Oyster Patties; Oyster, Crawfish and Crabmeat Dressing; Sweet Potato Casserole; Crawfish Étouffée; Seafood Gumbo; and Shrimp and Crab Bisque. To top off your holiday meal, we're offering our famous homemade cheesecakes, Plain with Fresh Strawberries and Pumpkin with Praline Sauce.
Orders can be placed by calling Deanie's Seafood Market at 504-834-1225. (Cajun Fried Turkeys are available Thanksgiving through Christmas.) Deanie's Seafood Market is located beside Deanie's Seafood Restaurants' Bucktown location at 1713 Lake Ave.
Put down the apron and pick up home-cooked goodness at Deanie's:
Thanksgiving orders may be placed by noon on Nov. 25; Pickup between 9 a.m. and 8 p.m., Nov. 26.
For Christmas orders, place your order by noon, Dec. 23; Pick up between 9 a.m. and 2 p.m. on Christmas Eve (Dec. 24).
Deanie's Seafood Gift Certificates: The Best Tasting Gift You'll Give All Season
Pe
rfect for that person on your list who has everything, share the gift of Deanie's with friends across the United States. A gift certificate from Deanie's Seafood is the best-tasting gift you'll give all season! Gift certificates can be used for dining at one of New Orleans' Best Seafood Restaurants–Deanie's Seafood Restaurant in the French Quarter or Deanie's in Bucktown–as well as for ordering fresh Louisiana Seafood online at Shopdeanies.com.
Shopdeanies offers a selection of live, boiled and fresh Louisiana seafood and prepared items, including our Seafood Gumbo, Stuffed Artichokes and Stuffed Shrimp; and our "New Orleans To You" Charbroiled Oyster Kit. Shopdeanies.com ships live, boiled and fresh Louisiana Shrimp, Oysters, Blue Crab and Crawfish (when in season) overnight to anywhere in the continental United States.
Call 504-834-1225 or visit one of our locations to order your Deanie's Gift Certificate.
Free Pictures with Santa and Holiday Cheer at Deanie's in the French Quarter
Enjoy cocoa, cookies and free photos with Santa while you stroll through the French Quarter for a New Orleans Style Christmas. The former site of the D.H. Holmes Department store annex at the corner of Iberville and Dauphine streets, Deanie's Seafood in the French Quarter is decked
out in style with five holiday window displays that will delight the little ones and remind mom and dad of holidays gone by. Stop by for a visit and pictures with Santa from 5 to 10 p.m. Friday through Sunday, on Dec. 5, 6 and 7 and 12, 13 and 14.
Known for family-style cuisine that satisfies the heartiest craving for Louisiana seafood and other regional favorites, Deanie's traditional department store holiday window displays have lined historic Dauphine Street for the last several years, winning awards from the Vieux Carré Commission and delighting neighbors and visitors alike. Each of the custom windows offers a peek into the wonder of Christmas-from elves decorating the tree to Santa and Mrs. Claus in a winter wonderland to Toyland and a traditional Nativity scene.
Celebrate with Deanie's Private Party Venue or off-site Catering
Deanie's Seafood will help you create a tasteful holiday event for your clients, office, corporate team or group with our authentic New Orleans cuisine and wide selection of cocktail reception, buffet and seated dinner menus. Deanie's is known around the country for its authentic New Orleans cuisine and fresh Louisiana seafood, and we also offer a wide selection of prepared sausage, beef, pasta and chicken dishes, sandwich and vegetable trays and more. Book your private party by Nov. 15 to receive a free bar upgrade or appetizer course!
Deanie's can provide all of your catering needs during the holidays, whether celebrating at an off-site location or in our French Quarter private party spaces. Deanie's Seafood in the French Quarter is a beloved New Orleans restaurant with over 1,300 square feet of private dining and courtyard space conveniently located one block off Canal Street. Deanie's Seafood's authentic Louisiana fare, casual upscale atmosphere and festive holiday decorations make it the perfect venue for celebrating the holidays.
Call 504-335-0255 now to book your private party or holiday social. Click here for more information.