NEW ORLEANS—September 12, 2014—Today the iconic Deanie's Seafood Restaurant & Seafood Market announced the line-up for its third annual Bucktober fall concert series.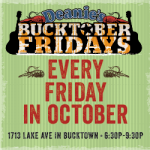 Celebrate the cool evenings of October with great local music and fresh Louisiana seafood at Deanie's Seafood Restaurant in Bucktown, 1713 Lake Ave. in Metairie, during Bucktober Fridays, 6:30-9:30 p.m. every Friday in October.
Featuring Deanie's full menu plus Charbroiled Oysters grilled to order, Bucktober Fridays is Deanie's free outdoor concert series celebrating local sounds and seafood at a New Orleans original and one of "New Orleans' Best Seafood Restaurants" (Gambit Weekly Best of Awards 2014).
This year's series features free outdoor performances for five weeks beginning Oct. 3 and closing on Oct. 31 with a Halloween night performance by legendary entertainer Vince Vance & The Valiants and free Halloween games and activities for kids.
Oct. 3 Vince Vance & The Valiants – A high-energy musical revue with the costumes, comedy and croonings of a true original, Vince Vance & The Valiants with backup singers The Valianettes has thrilled audiences of all ages from Coast to Coast.
Oct. 10 Orleans Band – With a powerful rhythm section, the 9-piece Orleans Band performs a range of music that includes Big Band, Swing, Motown, R&B, Rock & Roll, 70s-00s Dance Music, Country as well as some of the latest Top 40 hits.
Oct. 17 Bobby Cure & The Summertime Blues – Bobby's specialty is New Orleans rhythm and blues of the 1950s, but the band covers everything from big band swing to dance tunes.
Oct. 24 The Mixed Nuts – With a song list that ranges from current Top 40, 80's hits, rap, rock, disco, funk, swing, R&B, Motown, New Orleans classics and classic/modern Country, a Mixed Nuts experience is truly second to none.
Oct. 31 Vince Vance & The Valiants – Another rousing performance by New Orleans entertainer and musician Vince Vance & The Valiants
Information is available at www.Deanies.com/Bucktober. Updates and details on #Bucktoberfridays is available on Deanie's Facebook page and on Twitter.
ABOUT DEANIE'S SEAFOOD
For nearly 50 years, Deanie's Seafood Restaurants and Market have been serving huge portions of the best boiled, broiled and fried seafood in New Orleans. Deanie's operates a thriving seafood market and catering business as well as two successful restaurants in the New Orleans area, the original location at 1713 Lake Ave. in the quaint fishing village of Bucktown (Metairie) and a second location in the heart of the historic French Quarter, located at 841 Iberville St.
In 2014, Deanie's Seafood Restaurants became the first in the greater New Orleans area and the second (Bucktown) and third (French Quarter) in the state to earn Louisiana Wild Seafood Certification through the Louisiana Department of Wildlife & Fisheries, guaranteeing its customers and patrons that the seafood they enjoy is natural, sustainable and sourced from Louisiana waters.
Visit shopdeanies.com for fresh Louisiana seafood and Deanie's prepared items shipped anywhere in the United States. To learn more about Deanie's Seafood, visit us at www.deanies.com or call the restaurant directly at 504-834-1225.