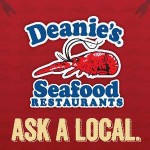 Deanie's staff share favorite New Orleans holiday traditions
Dec. 3 2014 – At Deanie's Seafood, we believe there is nothing like the holidays in New Orleans. From Christmas in the Oaks at City Park to holiday concerts at St. Louis Cathedral and the French Quarter adorned in lights, New Orleans is a magical place to get into the holiday spirit.
At Deanie's some of our holiday traditions include dressing up our French Quarter windows in the former D.H. Holmes Department Store with festive decor each year, free Photos with Santa, and the family-friendly
Vince Vance Kids Holiday
Sing-Along & Dance Party.
For 30 years, the city has celebrated the season with a full lineup of holiday festivities to highlight "Christmas New Orleans Style." The best way to find out what's worth doing around town is to "Ask A Local," so we asked some of our French Quarter employees what their favorite holiday traditions in New Orleans are, and here's what they shared!
Brenda B. has worked at Deanie's in the French Quarter as a server for one year and three months. Her favorite holiday tradition in New Orleans is attending Midnight Mass at the historic St. Louis Cathedral in Jackson Square and viewing the beautiful lights in the lobby of the Roosevelt Hotel.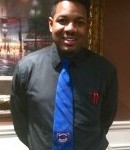 Tremain F. has been a server at Deanie's for nine years. Each year during the holiday season, Tremain looks forward to seeing the Christmas lights and music around the city. Caroling in Jackson Square has been a holiday tradition on the Sunday before Christmas (Dec. 21 this year) since 1946.
William R., a server at Deanie's for six months, enjoys The Bayou Classic, a rivalry football game that takes place between Thanksgiving and Christmas, bringing more than 250,000 visitors to New Orleans.
Jason D. has waited tables at our French Quarter location for almost six years and Grant A. has been with us for six months. Jason and Grant don't miss the popular holiday light festival Celebration in the Oaks each year in City Park.
Wherever you are, we wish you a joyous holiday season filled with your own special traditions with loved ones!
#AskALocal, #FollowYourJoy, #ChristmasNewOrleansStyle