Free outdoor festival: Live music, crawfish eating contest, crawfish races, art market, 610 Stompers, Deanie's crawfish specialties, plus The NOCCA Institute Boxcar food truck
Event: Pinch A Palooza Festival & Crawfish Eating Contest
Date: Sunday, April 19, 2015
Time: 11 a.m. – 9:30 p.m.
*Crawfish eating contest heats at noon and 1:40 p.m., title round 3:40 p.m.
Venue: Deanie's Seafood Restaurant in Bucktown, 1713 Lake Ave., Metairie
METAIRIE, LA.–Deanie's Seafood's sixth-annual Pinch A Palooza Festival & Crawfish Eating Contest will serve up more than 2,500 lbs. of boiled "Wild Louisiana Crawfish" and a full day of free entertainment and activities from 11 a.m. to 9:30 p.m., Sun., April 19 at Deanie's Seafood Restaurant & Market in Bucktown.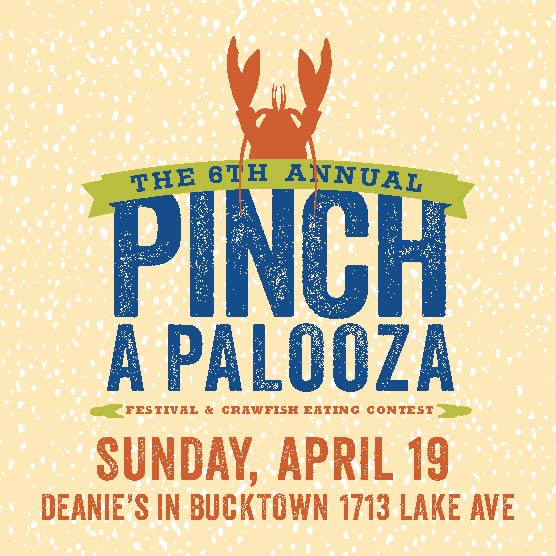 Deanie's annual crawfish season celebration, this year's Pinch A Palooza features six bands, including Amanda Shaw & The Cute Guys, Vince Vance & The Valiants, New Orleans Karma and Louisiana Cajun Folk band Chansons et Soûlards, an art market, Mardi Gras Indians Big Chief Romeo & The 9th Ward Hunters, the 610 Stompers, crawfish races and a crawfish eating contest plus activities for children.
A variety of Deanie's favorite Crawfish specialties will be offered, as well as The New Orleans Center for Creative Arts' (NOCCA) Institute's Boxcar food truck (@BoxcarNOLA), which will feature garden-inspired offerings made with seasonal produce from their Press Street Gardens and gives NOCCA's Culinary Arts students the opportunity to get first-hand experience in the real-world restaurant industry. Proceeds from food truck sales at Pinch A Palooza will support the Institute and NOCCA programs.
Activities for children include face painting and Pinch A Palooza Crawfish Races, where children gather round and cheer on their Cajun crawfish for a chance to win prizes. Children also will practice their fishing and casting skills with the Louisiana Department of Wildlife & Fisheries.
Pinch A Palooza entertainment and fun are provided free to the public. Food, beverages and keepsake items are available for purchase.
For more information on the Pinch A Palooza Festival & Crawfish Eating Contest, visit www.pinchapalooza.com.
{{cta('0cb64517-0a1f-47c0-8564-7322b1501837')}}