Easy Shrimp Recipes for Shrimp Season
One of our favorite Louisiana seafoods in season during the summer months are deliciously fresh Gulf Shrimp! Luckily we're in the middle of shrimp season right now, so they're both readily available and at the peak of freshness and flavor. Shrimp are easy to find at seafood markets, grocery stores, and by ordering online. Perfect for your backyard summer barbecue party or Fourth of July celebration, these easy shrimp recipes are sure to please your friends and family!
SHRIMP SALAD RECIPE
This riff on Shrimp Salad is not like your normal shrimp recipe… it's an updated twist on a classic. There's no mayonnaise, so the dish tastes super light and is perfect for an afternoon picnic. You don't have to use exact measurements either, just eyeball it and then add seasonings to your liking. Mix 1 pound of boiled and peeled shrimp with several squeezes of lime juice, a tablespoon of olive oil, a couple of tablespoons of finely diced red onion, a cup of halved cherry tomatoes, a whole diced avocado, and about a ¼ cup of cilantro. Add salt and pepper to taste, and add a diced jalapeno if you want a little heat. There are many other variations of Shrimp Salad recipes that you could try as well.
BACON WRAPPED SHRIMP RECIPE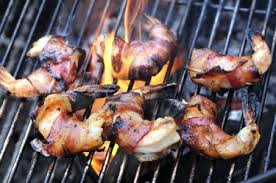 This kind of dish looks fancy, but couldn't be simpler to make. Bacon makes everything better, and the sweet and smoky flavor pairs so well with the flavor of the shrimp. Depending on the size of the shrimp, you will need 5-10 Gulf shrimp per person and about ½ a slice of bacon per shrimp. Wrap shrimp in bacon and put 2 or 3 on skewers. Heat a grill to medium, oil the grates, and cook shrimp on the grill for 3-4 minutes, turning once until the bacon is fully cooked. These crowd-pleasers can also be baked or broiled in the oven, too, and are great as an hors d'oeuvres or as a meal served with coleslaw, potato salad or roasted veggies.
SHRIMP PASTA
Our Shrimp Pasta recipe is a fun and easy way to either use of bo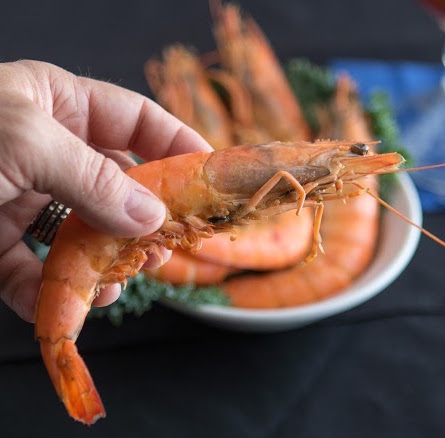 iled shrimp, or a good make ahead dish that can be prepared during the day, chilled, and served for dinnertime either on its own or as a side. Just combine about a pound of cooked orzo, a pound of cooked shrimp, about 2 cups of grilled sliced vegetables like zucchini and bell pepper, 1 large diced tomato, ½ cup of sliced basil, and about a cup (or more if you like) of diced mozzarella. Make a simple vinaigrette with some store bought or homemade pesto, white wine vinegar or lemon juice, olive oil, and salt and pepper, then pour over the shrimp salad and stir. Cover and chill, serve cold or just right at room temperature. If you're unsure about the exact quantities for the vinaigrette, you can follow this recipe.
SHRIMP FAJITA RECIPE
The flavor of shrimp lends itself so well to so many types of recipes, but it's especially good in fajitas. This shrimp recipe not only tastes fantastic, but is technically a "one pot" meal. Cut up a whole red or yellow bell pepper into big chunks, as well as a yellow onion. Spread out on an oiled sheet pan, along with a sliced jalapeno (optional). Drizzle everything lightly with olive oil, a few dashes of cumin and chili powder, salt, and pepper. Cook at 400 degrees for about 15 minutes, until the vegetables are starting to brown. Remove the pan from the oven and add ½ pound of peeled and deveined shrimp that have been tossed in a tablespoon of olive oil plus salt and pepper, cook for an additional 7-8 minutes or until the shrimp are done (taste one to test). Serve with heated corn or flour tortillas, salsa, sour cream, cilantro, charred corn for topping, and limes on the side.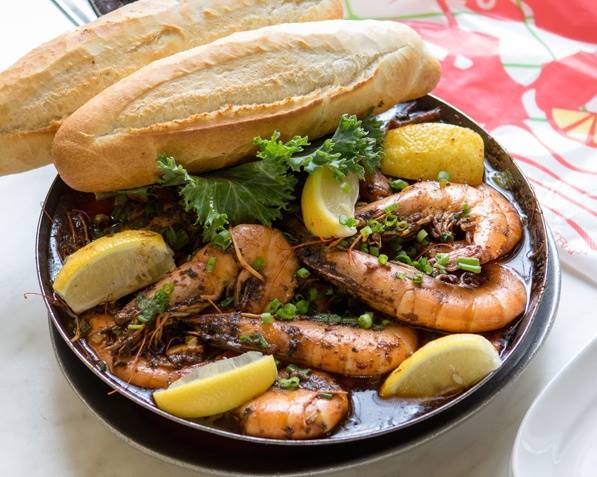 There are so many reasons to eat seafood right now, and these shrimp recipes are a great excuse to do just that! You can try Gulf Shrimp in a variety of different ways at Deanie's Seafood, including Barbeque Shrimp, Fried Shrimp, or Shrimp Remoulade. The restaurants have recently expanded their menus to provide a wider variety of options to sample fresh wild Louisiana seafood. Deanie's is proud to support the Louisiana Seafood industry, operating a thriving seafood market and catering business as well as two successful restaurants in the New Orleans area. Both restaurants are open 7 days per week, and the online seafood market is located at Shopdeanies.com.
Deanie's Seafood is a family-owned restaurant consistently ranked one of the Best Seafood Restaurants in New Orleans, offering certified "Louisiana Wild" seafood and made-from-scratch recipes for over 50 years. This summer, the Chifici family is proudly celebrating 35 years of ownership.