Half priced drinks and appetizers during WEEKDAY HAPPY HOUR

METAIRIE, LA. —At Deanie's Seafood in Bucktown, happy hour has never sounded so good. Join us Monday through Friday from 4-7 p.m. at our Lake Avenue location in Metairie for a happy hour you can't resist. Join us for 1/2 price appetizers, draft beer, house wines by the glass and mixed drinks (well brand), available in the restaurant and bar. Fill up on our ½ price appetizers such as our famous fried onions rings, fried artichoke hearts, stuffed artichoke and Trio of Soups – crawfish bisque, seafood gumbo, soup of the day. Since October is National Seafood month, you're in for a treat. Try our popular New Orleans BBQ Shrimp, fried or sauteed crab claws, Deanie's original crabmeat or crawfish nachos, stuffed artichoke, stuffed mushrooms, crispy calamari, and mouth watering fried crawfish tails.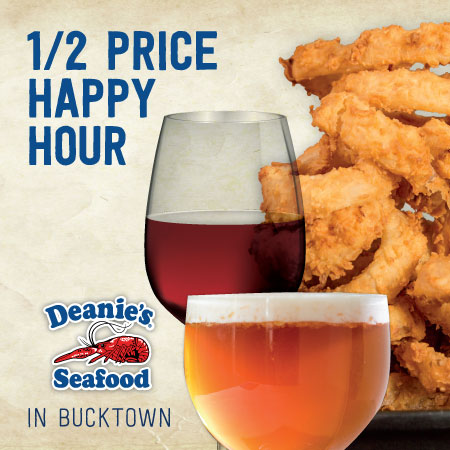 The specials are available in both the restaurant and bar at our Bucktown location, 1713 Lake Avenue in Metairie. Items priced at market price such as boiled seafood, raw or charbroiled oysters are not included in the happy hour special.
Deanie's Seafood offers the best and freshest seafood available, and our menu items are made from scratch using original family recipes. For truly authentic New Orleans dishes, give Happy Hour at Deanie's in Bucktown a try!
DEANIE'S CONTINUES BUCKTOWN TRADITION
Adjacent to Deanie's Seafood Restaurant's original location in Bucktown, Deanie's Seafood Market has been bringing fresh and boiled wild Louisiana seafood into New Orleans kitchens for more than 50 years. Fresh seasonal seafood is available everday at Deanie's Seafood Market, including Louisiana shrimp (fresh and boiled), Louisiana blue crab (fresh and boiled), Louisiana oysters (fresh and shucked), Louisiana crawfish (fresh and boiled), as well as catfish, redfish, salmon, and mahi mahi. Deanie's is proud to be part of this historic fishing community. Bucktown was established more than 100 years ago as a string of rustic fishing and hunting camps lining the 17th Street Canal and Lake Pontchartrain. Deanie's was the first seafood market to open its doors in the quaint fishing village of Bucktown, and was one of the first to sell boiled seafood in a retail setting in New Orleans.
BEST SEAFOOD IN NEW ORLEANS
Deanie's Seafood is consistently recognized by locals in categories like Best Seafood Restaurant, Best Oyster Po-Boy, Best BBQ Shrimp, and Best Place to Get Boiled Seafood in reader surveys by local publications Where Y'at Magazine, Gambit, The Times Picayune and New Orleans Magazine. Both restaurant locations are on the TripAdvisor "Hall of Fame" and have earned TripAdvisor's Certificate of Excellence seven years in a row. Deanie's Seafood's two restaurants in Bucktown and in the French Quarter, are open 7 days per week.
Visit our website for the full menu at each restaurant location.