NEW ORLEANS–Deanie's Seafood Proprietor Barbara Chifici was recognized by the American Culinary Federation New Orleans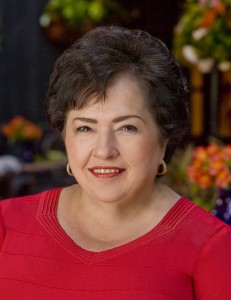 Chapter as one of the Top Foodservice Professionals duirng its annual "Best Chefs of Louisiana" Awards. Mrs. Chifici, owner/operator of Deanie's Seafood Restaurants for over 30 years, was installed during the premier food event of 2013, the "Louisiana Culinary Experience" in New Orleans. Deanie's Seafood's Stuffed Shrimp Recipe is featured in the new "Best Chefs of Louisiana" Cookbook along with recipes from the other honorees.
Deanie's has built its name and reputation on fresh Louisiana seafood prepared with Deanie's signature seasonings in a fun and casual atmosphere. In business for more than 50 years, today Deanie's operates a thriving seafood market, an online Louisiana Seafood Marketplace for Shrimp, Crabs, Oysters and more, a catering business, as well as two successful restaurants in the New Orleans area–Deanie's original location in the quaint fishing village of Bucktown and a second location in the heart of the historic French Quarter. The Chifici family celebrated 30 years as proprietors of Deanie's Seafood in 2012.
In a town famous for great seafood, Deanie's Seafood is in a class by itself. Deanie's is a "scratch house," meaning everything is made in-house with the best ingredients available.
Raised in a family of restaurateurs, Mrs. Barbara acquired an early interest in cooking. Many hours were spent in the observation and questioning of the fantastic cooks in her family, where she gained hands-on experience on how to become a great cook. At nineteen years of age, she married and went to live in Paris with her husband, Frank, who was attending culinary school at Le Cordon Bleu.
In the early 1970's, Barbara and Frank opened their first restaurant, Chifici's on Magazine Street in New Orleans. Their second restaurant, Gromboli's located on Veteran's Memorial Boulevard in Metairie, opened early in 1980. Both restaurants were closed to concentrate their energy on Deanie's, which was a much larger operation.
Mrs. Barbara's career has afforded her the opportunity to work with local chefs as well as other chefs around the country. She has cooked for national political figures, celebrities in the entertainment field and sport personalities. She spent three weeks in western New York instructing a small group of chefs that were eager to learn more about Cajun/Creole cuisine. As chef, Barbara has been invited to participate as a judge in food contests around the country. She has judged on both professional and amateur levels.
Deanie's Seafood is known for its Southern hospitality and serving the finest local seafood prepared in the authentic New Orleans culinary tradition. Deanie's is a favorite of the queen of Southern cuisine Paula Deen, who raves about the restaurant's signature BBQ Shrimp. In addition to its well-known seafood specialties, Deanie's banquet and catering menus include a wide variety of appetizers, entrées, desserts, and passed hors d'oeurvres and plentiful chicken, beef and ham selections, non-fried items, vegetarian and gluten-free options.
Deanie's recipes have been showcased in Gourmet magazine and in cookbooks such as Chef John Folse's "Hooks, Lies and Alibis." Its menu includes fresh Louisiana Shrimp, Blue Crab, Oysters, Crawfish and more, and features classic dishes such as Crawfish etouffee, Lump Crabmeat au Gratin, BBQ Shrimp and Seafood Gumbo. Deanie's also prepares and ships delicious fresh and boiled Louisiana seafood to customers throughout the United States through its retail website, shopdeanies.com, which was launched in 2011.